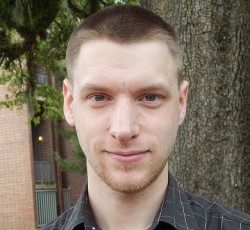 A Florida State University doctoral candidate is one of 20 scholars nationwide who will receive a fully funded research fellowship to study at the estate of President George Washington during the 2015-2016 academic year.
Chris Juergens, who is pursuing a doctoral degree in the Department of History, will spend a month-long fellowship at the Fred W. Smith National Library for the Study of George Washington located in Mount Vernon, Va. — Washington's former home and one of the nation's most popular historic sites.
"I am grateful for the chance to conduct research in the library dedicated to the life and times of our first president," Juergens said. "This fellowship is an incredible opportunity to spend time at Mount Vernon and investigate the American Revolution."
Juergens will explore the role of German auxiliaries — better known as mercenaries —in the American Revolutionary War for his dissertation, "Chasing Fabius: the Revolutionary Army of Hessen-Kassel and its Mission in America, 1776-84."
"A substantial part of my project concerns the American angle, how rebel troops and their commanders conducted themselves on campaign and how they perceived their enemies," Juergens said. "I could think of no better place to get at these questions than the Mount Vernon library. Though the library is relatively new, its collections are impressive and will be incredibly useful for my dissertation."
The Washington Library's fellowship program is only in its third year, but it has become a highly sought-after honor for academics researching topics related to George Washington, his life and the founding era.Short-term fellowships are valued at up to $10,000.
"Chris is working on an important project sure to be of interest on both sides of the Atlantic," said Rafe Blaufarb, professor of history at Florida State and Juergens' adviser. "This prestigious fellowship from Mount Vernon will help him craft a new narrative of the American Revolution centered on the experiences of German contract troops. The materials at Washington's library will prove invaluable for his dissertation."
While in residence, the fellows become an important part of the Mount Vernon community. They take part in day-to-day activities at the estate and library, and they are frequently called upon to share their findings in formal settings and casual gatherings for staff, other visiting scholars and special guests.
"There is no better place to study George Washington and the era in which he lived than here at Mount Vernon," said Doug Bradburn, the library's founding director. "We can tell that word has clearly gotten out about our research fellowship program by the caliber of applicants we have attracted."
Before arriving at Florida State in 2012, Juergens earned his bachelor's and master's degrees from Binghamton University in New York. In addition to pursuing his Ph.D. in history, Juergens teaches world history. He also is the founder and director of the FSU War & Society Workshop, where graduate students and faculty from Florida State and other institutions present works-in-progress to their peers for comment.