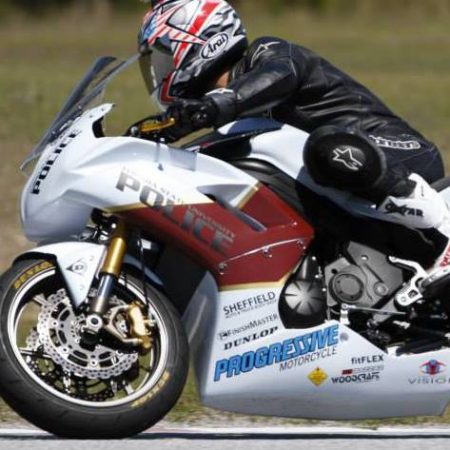 The Florida State University Police Department not only encourages safety awareness by high-speed motorcycle racers, it also teaches enthusiasts by example — with its own motorsports team.
The concept for a FSUPD motorsports team was created in 2008 because officers were concerned too many people use public roads as raceways. Through private donations and a $50,000 grant from the Florida Department of Transportation in 2014, FSUPD formed a motorsports team that travels the state to promote safety awareness.
"This is a groundbreaking concept," said Chief David Perry, who is also assistant vice president for Safety. "No other agency in the nation, to our knowledge, does anything like this to address the issue of lives being lost on our roads.We intend to take the lead to change behavior and save lives."
Officers Jason Harris and Brett Sheffield are the masterminds behind the FSUPD motorsports team concept. Having been at the FSUPD for 15 and 14 years, respectively, veterans of the force, both officers have developed a keen awareness of the importance of traffic safety and, in particular, the problem of street racing among the age demographic that includes most college students. It doesn't hurt that both Harris and Sheffield have extensive motorcycle and auto racing experience, which elevated their credibility for promoting a motorsports safety message well beyond any of their peers.
Harris and the team will travel to Daytona Bike Week — the "World's Largest Motorcycle Event" — where more than 500,000 motorcycle enthusiasts will gather at the 10-day festival March 6-15. The FSUPD Team will take part in Bike Week March 12-15 to spread the word about sports bike safety.
"We've had a great response from sports bike enthusiasts at events around the state so far and are excited to have an opportunity to meet motorcycle riders from around the world at Bike Week," Harris said.
The team, in partnership with GotTrack.net, has already visited the Palm Beach International Raceway for a "track days" event Feb. 8, where it joined high-speed motorcycle racers from around the state to provide instruction, skills-building training, safety awareness and lessons on maneuvering on the closed track. The team also did outreach during a Championship Cup Series race Feb. 14-15 at the Homestead Motor Speedway.
"With their help, we are getting the message out that racing belongs on the track and not on the street," FSUPD Maj. Jim Russell said. "It's about saving lives."
Florida led the nation with 491 motorcycle fatalities in 2012, according to the National Highway Traffic Safety Administration.
The team is planning promotional efforts at five other venues in 2015. While a fee is required for on-the-track participation, the FSUPD team is helping Florida residents who want to experience legitimate racing in a safe environment offset their costs with funds from the DOT grant.
More information about the team is available on Facebook at https://www.facebook.com/#!/FSUPDMotorsportsTeam.