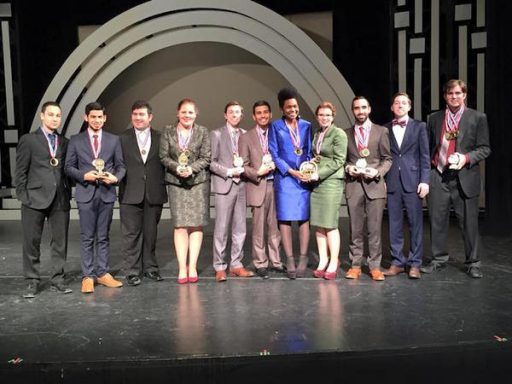 For the ninth consecutive year, the Florida State University Forensics team won the Florida Intercollegiate Forensics Association State Championship. The event was held Feb. 19-21 at Tallahassee Community College.
FSU defeated teams from universities across the state including University of Central Florida, University of Florida, University of West Florida and Tallahassee Community College.
The Forensics team has a rich history at Florida State that dates back to 1887 when Florida State was a women's college. Today, doctoral student Nick Thompson leads the 12-member group. Of the 12, 10 participated during the state championship.
"My students recognize they have a unique opportunity to speak about highly personal and nationally relevant topics," Thompson said. "The passion and courage to use their personal voices has been the reason for our success this year."
In addition to the state title, the team was awarded first place in Individual Events Sweepstakes, first place in Debate Sweepstakes and fourth place in Readers Theatre.
Seven of the members were also named state champions in their events:
Joshua Sherman and James Stage, Lincoln Douglas Debate
James Stage and Jose Pineda, Parliamentary Debate
Zachary Lima, Dramatic Interpretation
Eliza Jones, Program Oral Interpretation
Joseph Quintana, Communication Analysis
Joseph Quintana, Informative Speaking
Manish Khanal, Persuasive Speaking
Zachary Lima, Poetry Interpretation
By placing first in Persuasive Speaking, sophomore Manish Khanal qualified to represent FSU and the state of Florida at the nation's oldest speech tournament — the National Championship of the Interstate Oratorical Association to be held April 23-25 at Berry College in Rome, Ga.
Members of the team were recipients of various awards at the event:
Joshua Sherman, 1st Place Lincoln Douglas Debate Speaker Award
James Stage, 5th Place Lincoln Douglas Debate Speaker Award
James Stage, 1st Place Parliamentary Debate Speaker Award
FSU Forensics also qualified for 28 events at the American Forensics Association's national tournament, which will be held in Portland, Ore., during the first week of April.
For more information on FSU Forensics, click here.