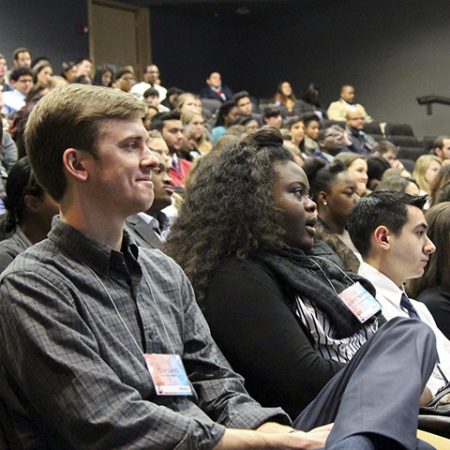 Students from Florida State University, Florida A&M University and Tallahassee Community College came together Jan. 30-31 to take on the prevalent issues around social justice at the annual FSU Multicultural Leadership Summit.
MLS, sponsored by FSU's Center for Leadership & Social Change, addressed the topic "Building Alliances for Change: Together We Can _________" through sessions, small group discussions and a keynote presentation by Atira Charles, assistant professor of management at Florida A&M University.In her keynote, Charles, a FAMU alumnae and former Florida State assistant professor, challenged participants to discover how they can fill the blank of the summit's title in their own lives.
"Why are we doing what we are doing if we can't believe there is a destination? Where are you trying to go?" she asked the audience. "Once you understand where your destination is, that blank starts to get filled and we, as a society, start to move in the right direction."
This is the first time that students from FAMU and TCC were invited to be a part of this event. Miguel Hernandez, associate director for the Center for Leadership & Social Change, believes this is a big step in bridging these campuses together.
"MLS gives participants a chance to truly engage in a complete dialogue around issues that directly affect them," Hernandez said. "We want to create connections and opportunities to broaden the impact of our campuses in Tallahassee like never before."
Theodis President, a psychology and pre-law student at FAMU, was inspired by the ideas by students from other institutions and gave him a new perspective on topics like leadership and social justice.
"It was encouraging to know that there are other students out there who want to make a difference and are willing to support me," President said. "MLS created that platform for us to bridge the gap between our campuses to work as one student voice and not just as Seminoles, Ratters or Eagles."
The Multicultural Leadership Summit is a program of the Center for Leadership & Social Change. The Center encourages students to learn, serve and transform through programming that surrounds leadership, service and diversity. The Center is a part of the Division of Student Affairs at Florida State. To learn more about the Center and for a list of upcoming events, visit thecenter.fsu.edu.