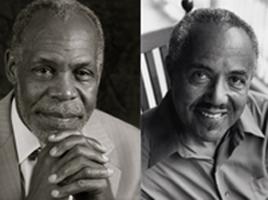 Paying homage to the late Martin Luther King Jr., Florida State University will host its 27thAnnual MLK Week beginning Wednesday, Jan. 14, through Tuesday, Jan. 20. The weeklong celebration will include activities and events inspired by the theme "Social Media to Social Change: Beyond the #Hashtag."
Headlining the week is "An Evening with Martin and Langston" featuring actors Danny Glover and Felix Justice. The performance draws audiences inside the worlds of two of the greatest orators of the 20th century: Martin Luther King Jr. and Langston Hughes.
Sponsored by the Student Government Association and the Golden Tribe Lecture Series, the free event is open to the public, but priority admission will be given to Florida State students with a valid ID. The event will take place at 7 p.m. Tuesday, Jan. 20, at Ruby Diamond Concert Hall. Doors open at 6 p.m.
The entire week of events will serve to bring together the Tallahassee community to reflect on the past and challenge each other to be engaged in creating social justice and advocating for the civil rights of all.
There will also be opportunities to participate in community servicebeyond the following events, which are free unless otherwise noted and open to the public:
Wednesday, Jan. 14
When Conflict Meets Change: A Visual Retrospective, 11 a.m.–1:30 p.m., Integration Statue: View images of civil rights movements across the country and around the world, and learn how you can move #BeyondTheHashtag to support positive sustainable change and social justice.
Our Voices: Past, Present, & Future, 7–8 p.m., Student Services Building 203:Join the Student Government Association agencies in this interactive reflection of the intersectionality of civil rights movements, advocacy for justice in today's world and how to get involved in the action.
Thursday, Jan. 15
Dinner Dialogue, 5:30 p.m.: This event will provide students, faculty and staff an opportunity to interact with Debra Austin, former chancellor of the State University System of Florida and an engaging speaker from the community. Dinner is provided for guests. RSVP is required to attend and space is limited.
Student Activities Center Involvement Fair, 7 p.m., Oglesby Union Courtyard: Visit the#BeyondTheHashtagtable or one of the other 150 student organizations and departments and get involved.
Friday, Jan. 16
Block Party, 4–6 p.m., Student Life Center Courtyard: Learn about the vast amount of resources available to students. The Conversation Couch, hosted by Project Conversation, will also be there to discuss current events and the issues surrounding race in America.
Black Film Festival, 7 p.m., Student Life Cinema: The third annual Black Film Festival, celebrating African-American cinema, highlights films from FSU students that reinforce positive images and dispel negative stereotypes of black culture. Award-winning student productions from the College of Motion Picture Arts will be viewed and discussed with current faculty and students.
Monday, Jan. 19
MLK Day of Service, 8 a.m.–2 p.m., Tallahassee Community College:The MLK Day of Service is a part of United We Serve, President Barack Obama's national call to service initiative. It calls for Americans from all walks of life to work together to provide solutions to our most pressing national problems. To register, visit: surveymonkey.com/s/serve4mlk.
Day of Dialogue, Serving Your Community, 11 a.m.–4 p.m., Cascades Park:The City of Tallahassee hosts the 18th annual Martin Luther King Jr. Day of Dialogue, providing a forum to experience the diverse views and cultures of others. Contact (850) 891-8290 or termaine.hughes@talgov.com for more information.