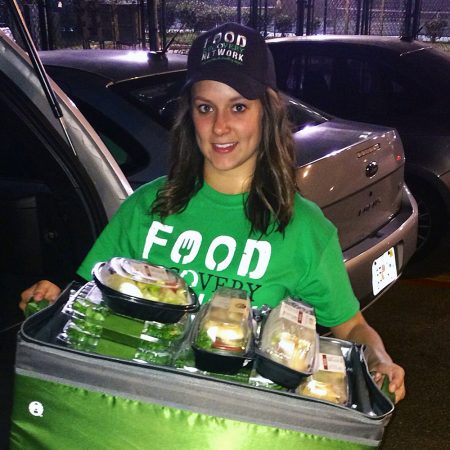 Florida State University students have joined a nationwide initiative to eliminate waste on college campuses while feeding the hungry at the same time.
In August, Florida State teamed up with the Food Recovery Network, an organization that unites students on college campuses to fight waste and feed people by recovering surplus unsold food from their colleges and donating it to hungry Americans.
Florida State's FRN chapter has partnered with Seminole Dining to recover extra food from eating establishments across campus, including Einstein Bros Bagels, Starbucks and Garnet-and-Go, for donation to the Hope Community and The Shelter, two Tallahassee homeless shelters.
"We are all really excited to get FRN going at FSU," said Elizabeth Swiman, the university's director of campus sustainability. "It is a great program that touches on multiple sustainability and social issues all at the same time and an example of how the campus can come together to support the needs of the Tallahassee community."
Volunteers are picking up items such as bagels, premade sandwiches and salads, parfaits and fruit and delivering them daily to the two facilities that combine to serve more than 600 people daily.
In addition, FRN will gather suitable food items from concessions after select FSU football games to distribute to homeless shelters throughout Tallahassee. FRN's first postgame collection will take place approximately five hours after kickoff of the Florida State-Wake Forest game, which is scheduled for 3:30 p.m. Saturday, Oct. 4, at Doak Campbell Stadium.
"Seminole Dining is proud to partner with the students of Florida State University to support the local community through the Food Recovery network," said Jerry Purvis, director of operations at Seminole Dining."We take great care in our sustainability projects on campus, and this is one more way we can add to support to this new organization on the FSU campus."
Allison Young, the president of Florida State's FRN chapter, has enlisted dozens of volunteers and organized a daily pick-up and delivery schedule but is actively looking for more volunteers to support the ongoing effort.
"We're new and a lot of people don't know we exist, but we're continuing to reach out to people and trying to recruit as many volunteers as possible," Young said.
FSU's chapter received a $500 grant from FRN to purchase coolers and bins to assist in recovery efforts.
FRN, which was founded in 2011 at the University of Maryland, has recovered more than 400,000 pounds of food at more than 95 colleges and universities in 26 states, Washington, D.C., and Puerto Rico.
Each chapter works with on-campus dining halls and other, off-campus eateries to divert food from the landfill to community members in need, while also raising awareness on issues of food waste and hunger in the United States.
For more information, visit FRN's Facebook group at https://www.facebook.com/groups/frnfsu/.