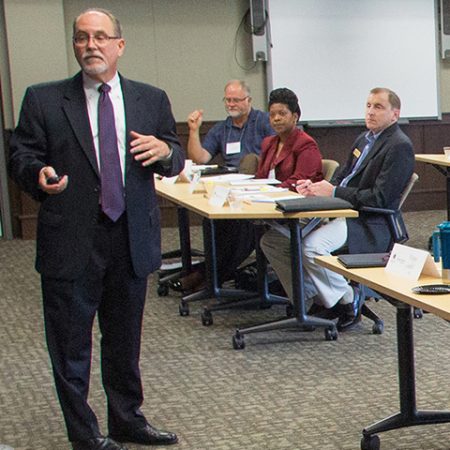 The Florida State University Career Center hosted the National Society for Experiential Education's Experiential Education Academy Southern Regional Institute earlier this summer in the Dunlap Success Center.
Both faculty and career services professionals working as experiential education practitioners from across the Southeast attended the institute.
Experiential education, or learning by doing, complements academic classroom learning and encompasses internships, co-ops, part-time jobs, research, leadership, study abroad and community engagement.
Fifteen Florida State faculty and staff members earned the NSEE Experiential Education Academy Certification of Achievement. Membership in the academy designates the recipient as a national leader in advancing experiential education as a field and a profession. Taught by faculty thought leaders from around the country, participants learned how to apply experiential components to complement the classroom and examined modern legal issues surrounding experiential learning.
In accordance with Florida State's graduate success initiative, the Career Center is working to increase experiential learning opportunities for undergraduate students, and the training of experiential learning practitioners reinforces this initiative.
"The Career Center has taken an active role in increasing experiential learning opportunities for Florida State students," said Career Center Director Myrna Hoover, "and this workshop series demonstrates our commitment to further best practices with professionals across the country."
NSEE is a nonprofit membership association of educators, businesses and community leaders founded in 1971. NSEE strives to serve as a resource for the development and improvement of experiential education programs nationwide. The Southern Regional Institute is one of its many offerings.