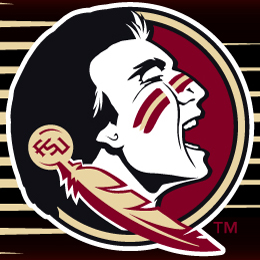 Three Florida State athletic teams – men's cross country, women's golf and women's volleyball – have been recognized by the NCAA for attaining multi-year Academic Performance Rate (APR) scores in the top 10 percent of their respective sports nationally.
Not only did the Seminole men's cross country and women's golf teams land within the top 10 percent of Division I programs, they extended impressive streaks of perfect scores (1,000) during the 2012-13 academic year.
This marks the fifth consecutive year that golf coach Amy Bond's team has registered a perfect score.
"It is really, really important for all of the student-athletes who come through our program and play golf at Florida State University to get a quality education," Bond said. "There is a reason why they are student-athletes and not athlete-students. I am very proud to consistently have those numbers within our program and excited to maintain that high level of excellence here at FSU."
Coach Bob Brahman's cross country team has a three-year streak of perfection.
"It's extraordinarily difficult because it doesn't only reflect their academic excellence and commitment, but it also reflects retention," Braman said. "All of our student-athletes who came in stayed, graduated and obviously had a good experience."
Professional opportunities are extremely limited in cross country, he said, and his students focus on and understand the importance of academics.
The women's volleyball team, under the direction of coach Chris Poole, also posted a perfect score of 1,000 for the 2012-13 academic year, on the heels of its 990 APR score for the 2011-12 academic year.
"We have had amazing young ladies since our arrival and we have been very fortunate that they have wanted to work hard to help build this program," Poole said. "It isn't easy to keep a full team together from year to year with all the different personalities and individual goals they may each have. We have built a family atmosphere with this program and I know the girls love playing for a university and athletic department that cares about them on and off the court."
Calculated over the four most recent years of data, the multi-year APR is a real-time measurement of eligibility and retention of student-athletes competing in every NCAA Division I sports team.
"These perfect multi-year scores indicate not only the dedication of the students, coaches and support staff of the individual programs, but more importantly they point to a persistent emphasis on superior performance in all facets of collegiate life," said Greg Beaumont, senior associate athletics director and director of Student-Athlete Academic Services. "This kind of academic performance, coupled with athletic excellence, is the embodiment of the unconquered spirit that is the hallmark ofSeminole Athletics."
The most recent APR is based on scores from the 2009-10, 2010-11, 2011-12 and 2012-13 academic years.
This marks the 10th year the NCAA has compiled APR data.