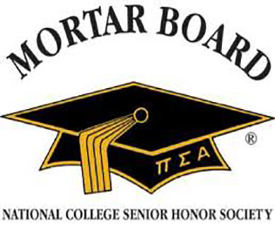 Florida State University's chapter of Mortar Board received a Golden Torch Award at the 2013 Mortar Board National Conference, held in the summer of 2013 in Atlanta.
The honor recognizes the most successful chapters of Mortar Board. Only a select few are chosen to receive the award based on their adherence to Mortar Board's ideals of scholarship, leadership and service. Recipients must have accomplished significant results in chapter management and contributed meaningful service to their campus communities.
For the past three years, the chapter has most definitely excelled in these areas. At one popular event, members gather publicly to shave their heads to raise funds to fight childhood cancer. To date, this event, St. Baldrick's, has generated more than $30,000.
"Everyone can be involved, and it's part of this greater thing," said Co-president Dale Gozum. "It's neat to be sitting in class and overhear people talking about this event that is growing in popularity."
In the chapter's Reading is Leading book drive, the students donated more than 500 books to a needy school. They also raised money for the Honors, Scholars and Fellows House recently constructed on the Florida State campus, which led to a connection with President Eric J. Barron. The group inducted him as an honorary member of Mortar Board in spring 2013.
With more than 40,000 students, Florida State has few honor societies small enough for members to think of each other as family. Its chapter of Mortar Board, called Torchbearer, is one of them.
"When you're in a large honor society, you get lost in the mix," said Co-president Ashley Pitt, who has been involved for nearly three years. "What's great about Mortar Board is that we're small, and we like to keep it that way. We're about trying to cultivate a family of scholars."
Nationally, Mortar Board is the premier national honor society recognizing college seniors for outstanding achievement in three areas: scholarship, leadership and service. Since its founding in 1918, more than a quarter of a million members have held the honor of being initiated at 230 chartered chapters across the nation. At FSU, the group usually accepts only about 30 students every semester, keeping their society small and the bonds strong.
"It becomes more than, 'Let's volunteer together,' but people become friends through this," said Gozum, who said he appreciates the opportunity to work with students in all kinds of majors. "There's a community building aspect to it."
Scoring membership in Torchbearer is no easy feat. Every fall and spring, students with a minimum of 60 hours and an GPA of 3.25 or a ranking in the top 25th percentile of their class — whichever is higher — in their respective colleges are invited to apply for membership.
One current member boasts a perfect 4.0 GPA, a Goldwater fellowship, the presidency of Phi Beta Kappa, performing a hand-balancing act for the FSU Flying High Circus, and being invited to an exclusive meeting in Germany this summer. And that's all one student.
"That's the kind of student we attract," Pitt said. "Those who work hard, make good grades, are personable and are still involved. It's someone who still finds time to do all of these things."
Pitts said the recognition from the national Mortar Board organization evokes her Seminole pride.
"There are Mortar Boards on campuses across the country, and out of hundreds of chapters, we're talking UCLA, UC Berkley, Harvard — someone said the work here at Florida State is the best," Pitt said. "We have the best students. We have some of the hardest working students. To be part of that recognition reassures you that you came to the right place."
Another induction ceremony is coming up in February. At the beginning of every induction, Mortar Board chapters across the country repeat a nationally recognized poem:
"The God of Great Endeavor gave me a torch to bear. I lifted it high above me in the dark and murky air, and straightway, with loud hosannas, the crowd proclaimed its light, and followed me as I carried my torch through the starless night … ."
Called "Torch," the poem was written in 1925 by Elizabeth Furry — a student as the Florida State College for Women, which is Florida State's institutional predecessor.
"It just says something about Florida State that we've been there since the beginning of Mortar Board and that people all over the country still repeat that poem, which originated here," Gozum said.
Pitt says induction is one of the most rewarding parts of Mortar Board.
"It's the lifeblood of the organization," Pitt said. "You can see it come in and every graduation you see it go out when students cross the stage with Mortar Board cords. It's rewarding to see how members get their start and then to see what they do with it."