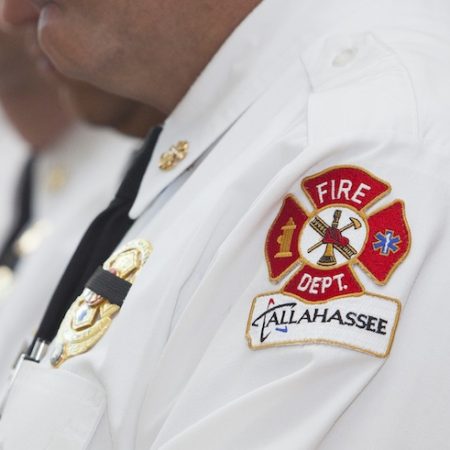 Turning a tragic occasion into a day of meaning was the trend as members of the Tallahassee community gathered at the Florida State University College of Law Wednesday, Sept. 11, for the third annual "9/11 Day of Remembrance and Service."
Sponsored by Leon County and the Holland and Knight law firm, the solemn ceremony recognized first responders, veterans, and active military. Leon County Commission Chairman Nick Maddox encouraged participants to engage in what has become the largest day of community service in the nation.
"Community service is an important core of our community, whether it's 9/11 or Dec. 11," Maddox said. "Particularly during this time, we have the opportunity to transform tragedy into a legacy of humanity and service."
Former Florida Gov. Bob Martinez, the senior policy adviser of Holland and Knight, presented the first annual Glenn J. Winuk Humanitarian Award to Mac Kemp, one of 12 nominees known for the generous ways they give back to the community.
"I'm very honored that I was selected because I'm in awe of so many things that so many people have done to help others," Kemp said.
Kemp served for 33 years as an emergency medical technician (EMT) and established Honor Flight Tallahassee, which helped transport 79 veterans, aged 85 to 96, to the WWII Memorial in Washington D.C.
"We've turned a day of tragedy into a day that is meaningful to the people that reach out to do extra things in our community in Leon County and beyond," Kemp said.
The award honors Glenn J. Winuk, a volunteer firefighter, EMT and former partner of Holland and Knight, who lost his life in one of the Twin Towers on 9/11.
After the ceremony concluded, volunteers assembled care packages for members of the armed service.