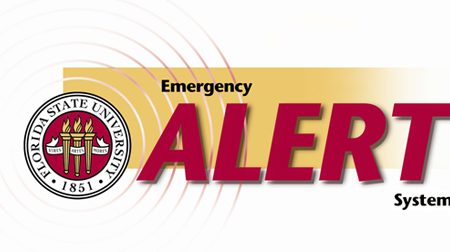 FSU Alert, the official source of emergency and safety information from Florida State University, is hosting informational events Monday, Sept. 9, through Friday, Sept. 13.
Topics include severe weather preparedness, crime prevention, fire safety and health and wellness. There are opportunities to learn about bike security, the Guardian program and more.
"The university and our government partners can only do so much to protect our students, faculty, staff and guests," said Dave Bujak, FSU's emergency management coordinator. "The goal of FSU Emergency Preparedness Week is to empower our campus community to prepare themselves on a personal and family level to be resilient against all the hazards we face. Together, as a team, we can develop a true 'culture of safety' at Florida State."
It all begins with a test between 10 a.m. and 2 p.m. on Monday, Sept. 9, of the FSU Alert Emergency Notification and Warning System.
Find more information and get updates on the week's events on FSU Alert's Facebook, Twitter and Pinterest pages.
The university's Emergency Preparedness Week is part of the Federal Emergency Management Agency's National Preparedness Month.