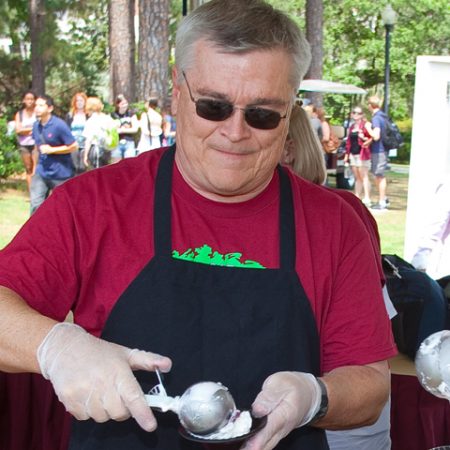 Landis Green at Florida State University is a wondrous place where Seminoles can gather on warm, sunny days to frolic, toss Frisbees and even study French. Hundreds of students strolling the green Tuesday afternoon discovered a sweet surprise served up by President Eric J. Barron, university administrators and volunteers. The 2013 President's Ice Cream Social was quite a hit, as hundreds flowed into the heart of campus to enjoy food, music and entertainment.
Students, staff and faculty moved to the music provided by a local disc jockey while eagerly awaiting a tasty treat in the early spring heat. Lines of people snaked through the grounds savoring scoops of Edy's Grand Ice Cream, Coca-Cola beverages and cookies provided by Asker Distributors and Classic Fare Catering presented by Aramark.
Obviously glad to have clear skies after a few days of rain, Barron, an avowed chocolate ice cream enthusiast, casually chatted with students during the annual event.
"This is a time of year when the tension kind of builds for finals, and you can see everybody starting to buckle down or worry a little," Barron said with his brow furrowed from the glare of the sun. "Why not do something like this, where you can relieve a little bit of the tension, and have some fun?"
Students laughed as a wily pirate strolled the area on stilts, cracking jokes and posed for pictures, while jugglers from the Flying High Circus wowed the crowd with their swift moves. An inflatable obstacle course allowed wound-up students to burn off some energy and feed their competitive side, as other students lounged on towels around the fountain and in hammocks, catching a moment of relaxation. Many even got down and danced to the music, despite the hot and humid conditions.
Anywhere they turned, the ice cream-lovers experienced a bit of fun-in-the-sun — or in the shade. Fortunate enough to find a breezy spot on Landis, sophomore Joann Suarez sat under the shadow of a tree as she scraped the last drops of ice cream from her bowl.
"I like to be able to meet up with my friends on Landis to have a little bit of fun," said Suarez as she wiped strawberry ice cream from her hands. "The free ice cream today is a great bonus."