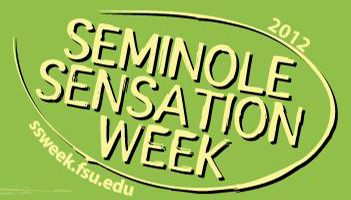 Before Florida State University's fall classes begin Monday, Aug. 27, students can participate in Seminole Sensation Week from Wednesday, Aug. 22, to Sunday, Aug. 26 — five days of dozens of fun activities designed to help them learn about the many ways to get involved on campus and meet other students who share their interests.
"Florida State is excited to welcome students back each year with programs and events hosted by departments and organizations campuswide," said Allison Black, assistant director for Student Activities and Seminole Sensation Week coordinator. "The Seminole Sensation Week schedule has grown each year as new programs are developed to provide fun and safe activities to engage students as they start the fall semester."
During Seminole Sensation Week, students can enjoy a free outdoor concert featuring El-P and Killer Mike; two outdoor movies on the Oglesby Union Green, midnight movies at the Askew Student Life Building and a sunset movie at The Rez; karaoke at the Club Downunder; bowling at Crenshaw Lanes; a program on staying healthy at the university's new Health & Wellness Center; a Glow in the Dark Sports Night; comedic performances in the Oglesby Union Ballrooms; and much more. For a complete schedule, click here.
An Involvement Fair will take place Tuesday, Aug. 28, from 7 to 9 p.m. in the Oglesby Union. It features A Taste of Seminole Dining and provides students with information on hundreds of recognized student organizations and departments.
The week culminates on Aug. 26 with two signature events, the New Student Convocation from 1:30 to 3 p.m. at the Tallahassee-Leon County Civic Center, 505 W. Pensacola St., followed by the President's Backyard Barbecue from 3 to 5 p.m. at the President's House, 1030 W. Tennessee St.