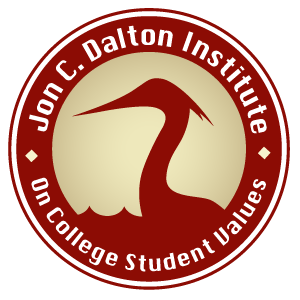 Social entrepreneurialism will be the hot topic when students, administrators and distinguished speakers from across the nation converge at Florida State University this week for a unique, annual conference that has helped to brand Florida State as a leader in the promotion of values and character development as essential components of a college education.
On Thursday, Feb. 4, the 22nd Annual Jon C. Dalton Institution College Student Values will kick off two-and-a-half days of training sessions, keynote lectures and roundtable discussions, most of which will take place in the Student Services Building on the FSU campus in Tallahassee. At press time, institute organizers at Florida State were expecting at least 150 participants.
For 2012, the institute's theme is "Values to Action: Preparing College Students to be Positive Changemakers in the Global Society."
"Consistent with prior years' themes, we will continue to focus on issues related to values, ethics and character in college student development, examining higher education's role in promoting social entrepreneurialism," said institute co-director Eric Weldy, Florida State University's associate vice president for Student Affairs. "We hope that the institute serves as a reminder of the work that remains."
Each year since the inaugural conference in 1991, the Jon C. Dalton Institute on College Student Values has drawn student-affairs professionals, educators, campus ministers, and graduate and undergraduate students to the Florida State campus to discuss and promote character development. Established at FSU by its namesake, longtime educator and then-Vice President for Student Affairs Jon C. Dalton, the institute strives to answer questions about the role of higher education in fostering a sense of commitment to community and the common good. Among those questions:
Do universities pay sufficient attention to the values, beliefs and moral commitments of their students?
How can universities provide more opportunities for students to connect learning with service, altruism and social justice?
Click here for the 2012 institute's complete schedule of events Feb.2-4. Among the highlights:
A group service project on Thursday,Feb. 2, from 9 to 11 a.m.
A lecture on Thursday from 7 to 8 p.m.by keynote speaker Eboo Patel. Named by U.S. News & World Report as one of America's Best Leaders of 2009, Patel is the founder and president of Interfaith Youth Core, a Chicago-based organization building the global interfaith youth movement.
On Friday, Feb. 3, from 9 to 10:15 a.m., a keynote address and Q&A session with Jessica Jackley, co-founder of Kiva.org, the world's first peer-to-peer online microlending website –– a concept named one of the top ideas of 2006 by New York Times Magazine.
A joint presentation on Friday from 3:15 to 4:15 p.m. by keynote speakers Elizabeth Griego, vice president for Student Life at the University of the Pacific in Stockton, Calif., and Spencer Ton, the assistant director of the University of the Pacific's Global Center for Social Entrepreneurship.
On Saturday, Feb. 4, a lecture from 9 to 10 a.m. by keynote speaker Jacob Okumu, a doctoral candidate in higher education and student affairs at Ohio University in Athens, Ohio, where he serves as a resident director on campus.Okumu has participated in service-learning projects in Rwanda, Tanzania, the Republic of Chad, Zimbabwe, Kenya and Honduras and worked as a clinical counselor with the U.S. Department of Defense at Fort Meade in Maryland.
Higher-education students and administrators who would like to attend the 2012 Dalton Institute on College Student Values can register here. Visit the Dalton Institute website to learn more.
For additional information, contact the following institute co-organizers in the Florida State University Office of the Vice President for Students Affairs: