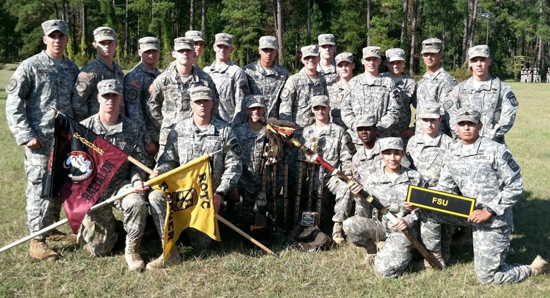 Two Florida State University Army ROTC teams — competing separately — placed first in their respective tiers and placed first and second overall in the 2011 Ranger Challenge, a nationwide competition for Army ROTC cadets who want to prove their mettle as part of a hardworking team.
Held this year at Fort Benning, Ga., the annual competition brought together 48 teams from throughout the U.S. Army Cadet Command's 6th Brigade, which covers Louisiana, Mississippi, Alabama, Georgia, Florida and Puerto Rico. It began at 4:30 a.m. on Friday, Oct. 7, and concluded at 9:30 a.m. on Saturday, Oct. 8.
Both FSU teams had a mixture of freshmen, sophomores, juniors and seniors.
In the competition, teams are placed in one of four tiers based on their performances from the previous year. "Red" tier teams performed strongest, followed by "blue," "white" and "green." One FSU team competed in the "red" tier and the other in the "green" tier.
"The Seminole cadets trained extremely hard and both teams were very competitive," said Lt. Col. Gregory D. Allen, commander of the FSU ROTC program, known as the Seminole Battalion. "Both team captains, 'red' tier cadet Justin Sisson and 'green' tier cadet Bradley Medley, trained their teams six days a week and provided the leadership needed to excel throughout the competition. The Cadre team coaches, retired Master Sgt. Michael Jackson and retired Master Sgt. Joe Lovins, spent a lot of their free time coaching and mentoring each team. Their efforts really paid off."
For 32 straight hours, the competition gave the cadets a lot to do with little down time. It included a 14.6-kilometer (9-mile) forced march while carrying a 35-pound rucksack, a day and night land navigation challenge, a weapons stress shoot, a weapons disassembly/assembly test, a hand grenade assault course, a raft course, an artillery challenge, medical training at a "trauma lane," a Ranger obstacle course, a rope bridge and a Ranger Challenge special event.
In addition to their first-place tier finishes and strong overall performance, the Seminole Battalion won the Spirit Award and the prestigious Native American Spirit Stick.