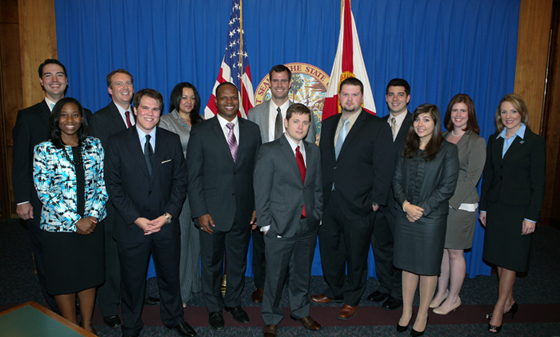 Seven Florida State University students have been selected by Gov. Rick Scott to be part of the 13-member 2011-2012 class of Florida Gubernatorial Fellows.
The 7-year-old program gives Florida college students firsthand experience in how state government operates by placing them in part-time jobs within the Executive Office of the Governor or in gubernatorial agencies. This year's program concludes on May 11.
The Florida State students are:
Nicole Blanton, 27, a third-year law student from Lake Worth, Fla.;
Marcus Dixon, 22, a graduate student in public administration from Miami;
Nicholas "Nick" Russell, 21, senior in economics and international affairs from Tampa, Fla.;
Judson Searcy, 24, a third-year law student from Pensacola, Fla.;
Theodore "Ted" Stratton, 30, a doctoral student in higher education administration from Melbourne, Fla.;
James VanLandingham, 28, a second-year law student from Tallahassee; and
Lorraine Young, 29, a third-year law student from Frostproof, Fla.
"These exceptional students have been recognized for their innovative ideas, academic excellence and deep commitment to public service," said Anne Marie West, director of FSU's Office of Graduate Fellowships and Awards. "The program provides fellows the unique opportunity to engage in professional work in state government. Across the disciplines, our programs are preparing future professionals to serve as leaders in their fields, and we are pleased to congratulate our outstanding fellows on their success."
Blanton is working for the Florida Department of Juvenile Justice identifying, analyzing and recommending the implementation of evidence-based or best practices for juvenile justice reform as supported by scientific studies; working on reducing the unnecessary use of secure detention and residential commitment while ensuring public safety; and assisting with legislative initiatives.
"I hope to gain firsthand insight into how a state agency runs on a day-to-day basis," Blanton said. "I want to learn how executive branch agencies interact with the Legislature during session and how juvenile justice reforms can positively impact our state, communities and kids."
Dixon is working for the Florida Division of Emergency Management surveying gaps in the state's emergency communications capabilities and researching ways to improve them.
"I hope to gain greater knowledge about the inner workings of state government and how the executive branch interacts with other parts of government to produce the laws and services that makes Florida a great state," Dixon said.
Russell is working for the policy research and legislative affairs unit of the Florida Department of Financial Services. He produces a quarterly report on the state's economy for the general public, researches economic data, monitors legislative developments and evaluates policy proposals.
"I hope to learn about the daily functions of a government agency and gain an insider's perspective on how policy is crafted and implemented," Russell said. "I am also interested in exploring how I can apply my academic interests and aspirations for public service in the real world."
Searcy is working for the general counsel of the Florida Department of Elder Affairs doing legal research and drafting various legal documents.
"The elderly are the largest and the most quickly growing population in Florida and one of the most vulnerable," Searcy said. "I hope to gain a better understanding of how the state interacts with the elderly community, and how it serves the plethora of needs that are unique to their group."
Stratton is working for the Division of Florida Colleges within the Florida Department of Education, focusing on the articulation between the state and community colleges and  universities. He also is working with the Higher Education Coordinating Council.
"From the experience, I simply hope to gain a better understanding of how education policy comes to fruition and how state leaders across agencies work together to best serve the residents of Florida," Stratton said.
VanLandingham is working with the general counsel of the Florida Department of Economic Opportunity performing legal research and writing on Florida constitutional, statutory and administrative questions. He also is assisting with communications and legislative affairs.
"I am looking forward to learning more about Florida constitutional law and how legal issues affect the management of a large, dynamic and important state agency engaged in the effort to reduce joblessness and put Floridians back to work," VanLandingham said.
Young is working for the general counsel of the Florida Department of Management Services providing legal clerking services.
"More than anything, I want to leave the Department of Management Services and this fellowship being equipped with knowledge and confidence necessary to effect change in my own community," Young said.
The students were selected based on their outstanding leadership skills, strong written and oral communication skills, community activism and their desire to serve the people of Florida.
Fellows are expected to work a minimum of 20 hours per week and are paid for their time on the job. To broaden the fellows' exposure to state government and enhance their experience, they also meet on a weekly basis as a group to participate in educational activities such as presentations, news conferences, budget briefings and policy briefings.
Of the other six fellows, two represent the University of South Florida and four represent the University of Florida.
For more information, contact Lauren McKeague, executive director of the Gubernatorial Fellows Program, at (850) 410-0230 or lauren.mckeague@eog.myflorida.com.