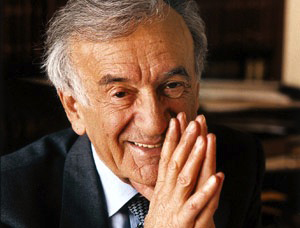 The Florida State University Golden Tribe Lecture Series, a collaborative, student-focused effort, will host "An Evening with Elie Wiesel," a speaking engagement featuring the Nobel Peace Prize winner, Boston University professor and Holocaust survivor on Tuesday, Oct. 4.
Wiesel, author of the classic memoir "Night," which details his family's experiences during the Holocaust, will speak:
TUESDAY, OCT. 4, 2011
7 P.M. (DOORS OPEN AT 6:30 P.M.)
RUBY DIAMOND CONCERT HALL
222 S. COPELAND ST.
FLORIDA STATE UNIVERSITY
Wiesel was born in Sighet, Romania. He was 15 years old when he and his family were deported to Auschwitz. His mother and younger sister perished there. He and his father were later transported to Buchenwald, where his father died shortly before the camp was liberated in 1945. After the war, Wiesel studied in Paris and eventually became a journalist in that city, yet he remained silent about his time in the death camps. During an interview with the French writer François Mauriac, he was persuaded to end that silence and wrote his memoir "Night." Since its publication in 1956 in Yiddish and in 1958 in French, "Night"has been translated into more than 30 languages and millions of copies have been sold.
An American citizen since 1963, Wiesel's work has earned him many awards, including the Nobel Peace Prize for Literature in 1986. He is the recipient of more than 120 honorary degrees from institutions of higher learning in the United States, Europe and Israel. In 1978, President Jimmy Carter appointed him chairman of the President's Commission on the Holocaust. In 1980, he became founding chairman of the United States Holocaust Memorial Council, which created the U.S. Holocaust Memorial Museum.
To learn more about the life and achievements of Elie Wiesel, visit the Golden Tribe Lecture Series website.
"An Evening with Elie Wiesel" is free and open to the public, but tickets are required.
Ticket Distribution:
Ticket distribution for "An Evening with Elie Wiesel" will take place on Tuesday, Oct. 4, at Ruby Diamond Concert Hall on the FSU campus. Tickets will be distributed only to FSU students with a valid gold FSU ID from 5:30 to 6:30 p.m. Students may obtain only one ticket per valid gold FSU ID. Tickets are for reserved seating and will be available on a first-come, first-served basis. After 6:30 p.m., any remaining tickets will be distributed, first-come, first-served, to both students and non-students.
Visit goldentribe.fsu.edu for online ticket information on this and other upcoming lectures. For additional information, contact Vicki Dobiyanski, director of FSU Student Affairs, at (850) 644-0939 or vdobiyanski@admin.fsu.edu.
The Golden Tribe Lecture Series was re-established in the fall of 2010 to provide the Florida State University student body with a series of speakers sponsored by the Student Government Association in collaboration with Union Productions. The lecture series is an academically focused speaker series created to connect students to outstanding individuals who are either experts in their field or working at the forefront of a relevant political or social issue. The mission of the series is to engage students in issues and dialogue that will benefit their overall academic, scholastic or humanitarian experience.