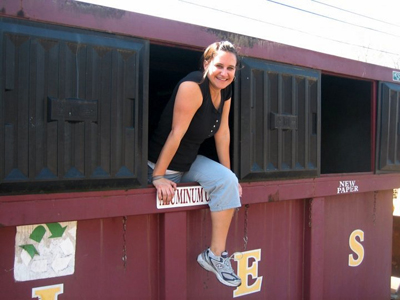 Florida State University officially joins the ranks of some of the nation's most prestigious universities and colleges after earning a "silver" rating in a new benchmarking program that encourages environmental sustainability in higher education.
The program, the Sustainability, Tracking, Assessment & Rating System (STARS), is the only ranking system of its kind that involves publicly reporting comprehensive information related to a college or university's sustainability performance. To date, nearly 230 higher-education institutions have registered as STARS participants.
For FSU, winning the silver was serendipity.
"We fared so much better than we originally thought we would, and our silver rating is huge for FSU," said Elizabeth Swiman, the university's director of Campus Sustainability and an effusive advocate for the issue.
"Institutions can earn credits for all of their contributions to sustainability," said Paul Rowland, executive director of the Association for the Advancement of Sustainability in Higher Education (AASHE), which administers the STARS program. Key areas include the use of "green" cleaning products and energy efficiency in campus buildings.
Swiman, who talked with a wide range of faculty and administrators throughout Florida State when applying for the STARS rating, hopes to create a long-term university sustainability strategic plan. She also hopes to change also how the university thinks about sustainability, "so that it's not just about recycling but moving beyond that conversation to look at the social and environmental impact."
Swiman has a track record of rallying both students and companies into taking a more thoughtful approach to campus environmental issues. She collaborated with Coca-Cola, which has donated 300 large syrup barrels for reuse as recycling bins at FSU football games, both inside Doak Campbell Stadium and outside among tailgaters.
During the 2010 football season, Swiman said, the effort boosted overall recycling to a total of 32 tons — up from 8 tons during the 2008 season and 10 tons in 2009.
She also has been an encouraging force behind Florida State's highly successful new bike recycling program, as well as the popular "Chuck It for Charity" initiative, which encourages departing students to donate — rather than discard — unwanted possessions that can be used by others.
Swiman's strategy is basic: "Connecting ideas to action." And her love of working with students is legendary: "I get a lot of queries from students interested in sustainability and environmental issues," said Swiman, who first juggled her sustainability duties while working as FSU's service learning coordinator.
Now, with the start of FSU's fall 2011 semester just weeks away, Swiman's enthusiasm as well as the new silver rating will help raise awareness for a new generation of students passionate about sustainable campus living.
For more information about FSU's sustainability program, visit sustainablecampus.fsu.edu or contact Swiman at (850) 645-0395 or eswiman@admin.fsu.edu.