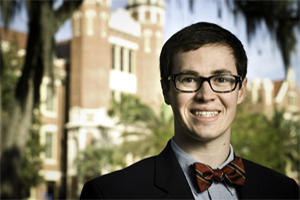 Florida State University may have an international reputation for the strength of its graduate programs, as well as for the academic accomplishments of the students in those programs. But by at least one measure, the university's undergraduates are giving their graduate-level peers a run for their money.
With assistance from FSU faculty and the Office of National Fellowships, numerous undergraduates this year have been the recipients of highly competitive and prestigious college scholarships, educational grants and research internships, some valued in the tens of thousands of dollars. With these major national awards, many talented students have been able to get a head start on their graduate careers by conducting serious scientific research, while others have been able to continue their studies in foreign countries.
"Working with this group of students is an absolute dream come true," said D. Craig Filar, director of the Office of National Fellowships. "These are the best and brightest students that we have here at Florida State University, and they bring such a great amount of energy to everything they do. You can't help but be inspired by the amazing amount of intelligence, talent and drive they exhibit. These are young people who are ready to take on the world."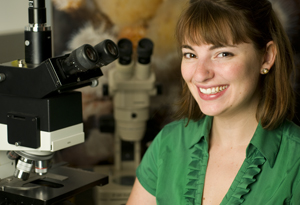 The scholars Filar refers to come from a wide variety of disciplines, but they all have one thing in common: They reflect the overall academic excellence of the more than 31,000 undergraduate students currently attending Florida State.
Among the many success stories are recipients of one of the most widely recognized and esteemed academic awards of them all — the Fulbright. Sponsored by the U.S. Department of State, the Fulbright U.S. Student Program offers fellowships for graduating college seniors, graduate students, young professionals and artists to study, conduct research and/or teach English abroad.
This year, two graduating seniors at FSU received and accepted Fulbright awards:
William Boyce of Jacksonville, Fla., who graduated in April with an ambitious triple major in history, creative writing and religious studies. He received a Fulbright Study/Research Grant to study in the United Kingdom — perhaps the most highly competitive location in the entire Fulbright program. Boyce was competing against master's and doctoral-level students, among others, in his bid for the Fulbright. (Read more about him here.)
Lara Musser of Oldsmar, Fla., who graduated in April with a bachelor's degree in anthropology and literature. She received a Fulbright English Teaching Assistantship, which provided her with an opportunity to travel and teach in South Korea. (Read more about her here.)
A third undergraduate, Jesse Damiani, was awarded a Fulbright English Teaching Assistantship that would have enabled the Jacksonville native to travel and teach in Turkey. However, Damiani, who graduated in April with a double major in media production and creative writing, declined the award because he had already been accepted into a Master of Fine Arts program at another university.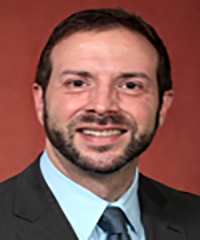 In addition to the three undergraduates, an FSU graduate student — Jacob Newberry of Gulfport, Miss. — also was awarded a Fulbright this year. Newberry, who is pursuing his doctorate in creative writing, received a Fulbright Study/Research Grant. With it, he plans to write a collection of poetry about Southern evangelicals in Israel.
Fulbright recipient Boyce credited his alma mater with helping him accomplish many of his goals.
"I honestly don't know where I would be if I weren't at Florida State University," he said. "The opportunities to study and do research as an undergraduate are astronomical here. The chances to have a support network that is truly invested in the kinds of research and studies that you're doing and being able to be competitive for these national fellowships through the Office of National Fellowships has prepared me to do the kinds of study that I want to do in the future."
For budding scientists, meanwhile, few academic awards are more highly coveted than Graduate Research Fellowships from the National Science Foundation (NSF). This year, three graduating FSU seniors received the NSF awards; they are Vivek Pal and Duncan Haldane, both of Tallahassee, and Kim Reuter of Fort Myers, Fla. Over a three-year period, each will receive a $30,000 annual stipend, a $10,500 cost-of-education allowance, and a one-time stipend of $1,000 for international travel to support them as they begin their graduate research.
Pal, who graduated in April with a bachelor's degree in pure mathematics, plans to pursue a master's degree in mathematics at Columbia University. He previously received a prestigious Barry M. Goldwater Scholarship for undergraduate math and science majors in 2010. (Read more about him here.) Haldane, who earned his bachelor's degree in mechanical engineering, will pursue his master's in the same field at Florida State. And Reuter, who received her bachelor's degree in biology in fall 2010, will study conservation biology at Temple University.
Also in the sciences, Nick Trombetta of Plano, Texas, and Kyle Ahern of Boynton Beach, Fla., both meteorology majors, were awarded Ernest F. Hollings Scholarships by the National Oceanic and Atmospheric Administration (NOAA). These are two-year awards that fund scholars at $8,000 per year during their junior and senior years. A summer research internship at NOAA between the junior and senior years is a key benefit of the scholarship.
In addition to its newest Fulbright recipients, Florida State University will be well represented across the globe over the next year thanks to a number of scholarships and awards that are enabling FSU undergrads to pursue their studies abroad. Among them:
Brandon Beardsley of Longwood, Fla., Madison Marks of Jacksonville and Mark Manfra of Miami all won Boren Undergraduate Scholarships, which provide students with up to $20,000 toward program expenses in another country for an academic year. Funded by the National Security Education Program, Boren scholarships enable undergraduate students to study abroad in areas of the world that are critical to U.S. interests, including Africa, Asia, Central and Eastern Europe, Eurasia, Latin America and the Middle East. With their scholarships, Beardsley, a double major in international affairs and Middle Eastern studies, and Marks, a Middle Eastern studies major, will both study Arabic in the Middle East. Manfra, a double major in political science and creative writing received a Boren scholarship to study Portuguese in Brazil but declined it to attend Yale Law School.
Wright Dobbs of Tampa, Fla., won a RISE (Research Internship in Science and Engineering) Award from Deutscher Akademischer Austausch Dienst, or DAAD (the German Academic Exchange Service). The award is providing Dobbs, a junior majoring in meteorology, with a summer research internship at the Leibniz Centre for Agricultural Landscape Research in Müncheberg, Germany. Included in the award is a monthly stipend, health insurance and housing.
Khadijah Gray, a junior from Tallahassee who is majoring in international affairs, received a DAAD Undergraduate Scholarship to study in Oldenburg, Germany, this fall.
Four students received Critical Language Scholarships to study abroad. Funded through the U.S. Department of State, Critical Language Scholarships provide support for students to participate in intensive, immersive summer language institutes in 13 languages. This year's recipients are:

Cornelius "C.J." Canton, a senior from Lutz, Fla., who is majoring in Middle Eastern studies and economics. This is the second year in a row that Canton has won a Critical Languages Scholarshi. With this year's award, he is currently studying the Urdu language in Lucknow, India.
Denise Correll, who graduated in April with a double major in international affairs and Chinese. The Jacksonville native is studying Mandarin Chinese this summer in Xi'an, China. (Read more about Correll here.)
Kate Layton, who graduated in April with a bachelor's degree in history. With her scholarship, the Jupiter, Fla., native is currently studying Arabic in the Middle East.
Ellen Truchon, a senior from Panama City, Fla., is pursuing a double major in in marketing and international affairs. She is studying Korean this summer in South Korea.
Eight more students won Benjamin A. Gilman International Scholarships, which are sponsored by the Bureau of Educational and Cultural Affairs at the U.S. Department of State. At FSU, the Gilman scholarships fund study abroad through the university's International Programs. This year's recipients are:

Stephanie Arrington, a senior Spanish major from Ponce Inlet, Fla., who studied in Spain during the fall 2010 semester.
Jordan Compton, a sophomore sociology major from Duluth, Ga., who studied in Italy this summer.
Martin DeJesus, a senior sports management major from Miami who studied in Turkey this summer.
Christopher Moschonas, a freshman exercise science major from Lakeland, Fla., who studied in Panama this past spring.
Jonathan Peralta, a senior international affairs major from Orlando, Fla., who studied in Turkey this summer.
Vincella Smith, a senior psychology and women's studies major from Miami who studied in England this past spring.
Ashley Villegas, a junior media/communication studies major from Hollywood, Fla., who studied in India this past spring.
Brianna Wilson, a senior literature major from Jacksonville who studied in Peru this summer.
Two additional FSU undergrads received unique honors recently:
Sophia Khawly of Miami was named one of Glamour magazine's Top Ten College Women of 2010. Just 10 women in their junior year of college are selected annually for this honor. (Previous award recipients include Hillary Clinton, Oprah Winfrey, Condoleezza Rice, Martha Stewart and Diane Sawyer.) Recipients receive $5,000 and a trip to New York City; another $3,000 is donated to the charity of their choice. Khawly, a nursing major, graduated from FSU this past spring. Read more about her here and here.
Ariel Giumarelli, an economics and creative writing major from Fort Lauderdale, Fla., was selected to represent the state of Florida at the 4th Annual Henry Clay Center for Statesmanship Annual Student Congress in Lexington, Ky., in June. The congress educates a new generation of leaders in the principles and practices of statesmanship as exemplified by the great Kentucky statesman Henry Clay. Through the event, a top college junior from every state is able to participate in a five-day curriculum in diplomacy, dialogue, listening skills, negotiation and mediation. In addition to that honor, Giumarelli was awarded a fellowship by the Public Policy and International Affairs Fellowship Program (PPIA), a summer program for rising seniors. The fellowship was established to prepare young adults for an advanced degree and ultimately for careers and influential roles serving the public good. Giumarelli declined the PPIA fellowship because it conflicted with her plans to attend the Henry Clay Center for Statesmanship Annual Student Congress.
"I continue to be impressed by the energy and creativity of the young men and women who are seeking and winning these awards," said Dean of Undergraduate Studies Karen Laughlin. "Their sincere desire to serve others and take on leadership roles in their chosen fields is an inspiration. Their success, as well as the success of the Office of National Fellowships in assisting them, convincingly demonstrates that Florida State University students can compete successfully with any students in the nation."
Since its inception in 2005, the Florida State University Office of National Fellowships has mentored and assisted some of our most talented students. Over the past six years, our students have won more than 80 nationally competitive awards, including three prestigious Rhodes scholarships, three Truman scholarships, five Goldwater scholarships, seven Hollings scholarships, three Pickering fellowships and 38 Fulbright scholarships. To learn more about the Office of National Fellowships, contact director D. Craig Filar at (850) 644-7596 or cfilar@admin.fsu.edu.