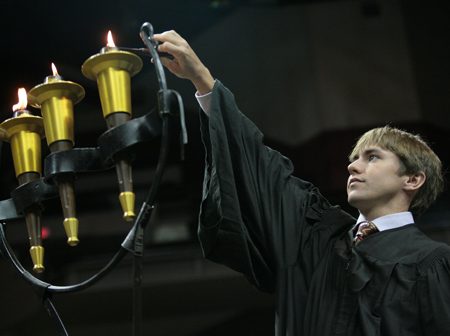 The Florida State University will honor its incoming first-year students and welcome them officially into its community of scholars during New Student Convocation, an hour-long ceremony scheduled to begin at 1:30 p.m. (doors open at noon) on Sunday, Aug. 22, at the Tallahassee-Leon County Civic Center.
All new students enrolled for summer or fall semester 2010 are expected to attend. Their families, the entire university community and the general public are also invited to the event. Convocation will introduce the Class of 2014 — an outstanding group of approximately 6,100 students — to Florida State history and tradition and university pomp and circumstance, starting with an academic procession that includes the deans in full academic regalia.
FSU President Eric J. Barron will give the Convocation address, following opening remarks by Provost and Executive Vice President for Academic Affairs Lawrence G. Abele, who will deliver the charge to the Class of 2014 later in the ceremony. The president's talk will center on "This I Believe: The Personal Philosophies of Remarkable Men and Women," the summer 2010 reading assignment for all first-year students. The book is based on the radio series "This I Believe" that airs on National Public Radio.
New Student Convocation will take place on Day 5 of Seminole Sensation Week, the annual prelude to the fall semester that helps Florida State students connect with one another and sample some of the extracurricular activities that energize campus life. Seminole Sensation Week activities will begin Aug. 18 and conclude on Aug. 22, when new students, their families and the deans of the 15 colleges are invited to the grounds of the FSU President's house and neighboring Alumni Center from 5 to 7 p.m. for the inaugural "President's Backyard Barbeque," hosted by Barron and his wife, Molly, and sponsored by the Student Alumni Association. In addition to free barbeque, the event will feature games and entertainment, including performances by the FSU Flying High Circus, Marching Chiefs and cheerleaders.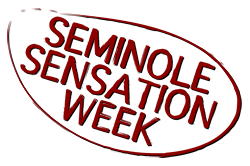 "We hope the Backyard Barbeque becomes a fall tradition that enables our students to mix and mingle in a relaxed, social environment with other students and the deans from their colleges," Barron said.
The president is also promoting another new tradition. This year, each new student will receive a T-shirt whose color corresponds to his or her college affiliation — and for the undecided, there is even a color for "Exploratory." The idea, said Barron, is to make it easier for thousands of first-year students to meet and talk with like-minded others.
"We are encouraging our new students to wear their T-shirts at both Convocation and the Backyard Barbeque on Sunday to get a head start on making friends and building bonds with fellow students who share similar interests," he said.
As always, New Student Convocation will feature the memorable Torch Ceremony, in which three upper-class Florida State students pass the torches representing Vires (strength), Artes (skill) and Mores (character) to a trio of incoming students. The ceremony, led by Dean of Undergraduate Studies Karen L. Laughlin, emphasizes the intellectual traditions of the institution and includes a recitation of the Academic Honor Policy Pledge.
For 2010, the upper-class Torch Ceremony representatives are:
(Vires) Christian Ponder, who was born in Tampa and calls Colleyville, Texas, home. He earned a bachelor's degree in finance in two-and-a-half years, completed his Master's in Business Administration in Spring 2010, and is currently pursuing a graduate degree in Sport Management. A Florida State football quarterback, he has earned a 3.6 GPA over the course of his collegiate career. Ponder has been named to the ACC All-Academic Football Team twice and made the ACC Honor Roll four times. His character, community service and leadership have earned him honors as a finalist for the 2010 Allstate American Football Coaches Association Good Works Team; a nomination for the 2010 Lowe's Senior Class Award; and a finalist berth for the 2009 Wuerffel Trophy.
(Artes) Dayron Silverio, who was born in Cuba and calls Miami home. A third-year student on track to graduate later this year, Silverio is a double major in political science and criminology and has made the "President's List" each semester with a 4.0 GPA. He has worked extensively with the director of Florida State's Center for the Advancement of Human Rights and, with support from an FSU Undergraduate Research and Creative Activity Award, he spent summer 2010 in Spain researching human right violations committed during the Franco regime. The recipient of the Angie Cintron Memorial Scholarship at the 2010 Leadership Awards Banquet, Silverio also serves as assistant director of the Latino/Hispanic Student Union.
(Mores) Erin Simmons, of Argyle, Texas, who was a finalist for the 2009 Rhodes Scholarship and recently was awarded a 2010-2011 Florida Gubernatorial Fellowship. Simmons graduated magna cum laude in biological science after only two years at Florida State. Now, she is conducting research in marine ecology and fishery conservation as an FSU graduate student. Her high-speed success has been achieved while also competing as a javelin-throwing, triple-jumping, walk-on member of Florida State's track and field team. She serves as an instructor in the "Saturday at the Sea" program, which introduces local teens to the marine and coastal ecosystems of Florida's Gulf Coast, and volunteers at the Equine Angels Special Therapy Center in Texas.
The torch recipients for the Class of 2014 are the three winners of Florida State's annual Vires, Artes, Mores essay contest for first-year students, who this year were asked to write their own "This I Believe" credo. In 2010, the winning essayists are:
(Vires) Diana Fritzner, of Jacksonville;
(Artes) Lauren Ferrell, of Tampa; and
(Mores) Cristina Alonso, of Hialeah.
After the torches are passed, Vice President for Student Affairs Mary B. Coburn will lead a pinning ceremony, in which students recite the Seminole Creed and put on a special pin created for the event.
Prior to the recessional that concludes New Student Convocation, College of Music student Jacob Allen Patrick of Winter Park will help Associate Professor of Music Kevin Fenton teach the crowd to sing the Florida State alma mater, "High o'er the Towering Pines."
A free Convocation shuttle-bus service for students and their families will run Aug. 22 between on-campus residence halls and the Civic Center, which is within walking distance of Florida State's main campus. Go to nsfp.fsu.edu/pdf/convocationmap.pdf for a map of the special Convocation bus route and stops. For drivers, nearby parking will be available in FSU parking garage No. 5 (free), located on West Pensacola Street at Copeland Street, just west of the Civic Center; and in the Civic Center Parking lot ($7 fee). For driving directions, visit www.tlccc.org/info_html/directions.html. Most Seminole Sensation Week events are free with a valid FSU ID. Go to ssweek.fsu.edu for a complete schedule.