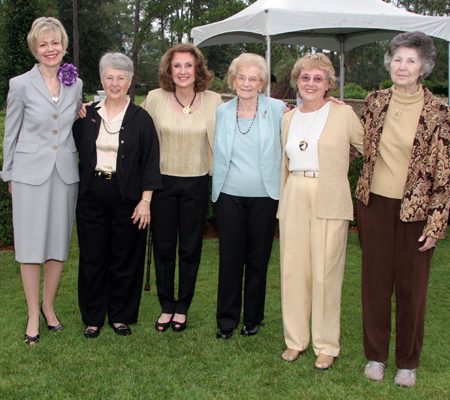 The Florida State University honored its first families past and present at a special dedication ceremony Saturday, Oct. 31, 2009. The newly constructed First Family Tribute Garden, located on the west side of the President's House adjacent to the Alumni Center, features a reflecting pool with a one-of-a-kind bronze and fused glass rose, along with plaques bearing the biographies of each of the 12 First Ladies of the university and its predecessor institutions dating back to 1887.
"Over the decades, presidents' spouses and children have provided invaluable support to the university's presidents," said President T.K. Wetherell. "They have epitomized the university's traditional warmth and hospitality, serving as true ambassadors for the institution. It seems appropriate to pay homage to their efforts with this tribute garden."
Six First Ladies attended the event: Mary Champion, Shirley Marshall, Greta Sliger, Marilyn Lick, Patsy Palmer and Virginia Wetherell. Representatives of each of the First Ladies — most of them family members — spoke at the event.
Speakers included:
Rob Jakubik, Student Body President, representing Rebecca C. Fry Edgar, wife of President George Mathews Edgar, First Lady, 1887-1892
Nancy Fox, niece, representing Jennie Henderson Murphree, wife of President Albert A. Murphree, First Lady, 1897-1909
Edward Ekermeyer, grandson, representing Augusta Grothaus Conradi, wife of President Edward Conradi, First Lady, 1909-1928
Doak Campbell III, son, representing Edna Simmons Campbell, wife of President Doak S. Campbell, First Lady, 1941-1957
Anne Strozier, daughter, representing Margaret Burnett Strozier, wife of President Robert M. Strozier, First Lady, 1957 – 1960.
Ricky Bailey, alumnus, staff in Student Affairs, representing Elizabeth Blair Lyles Blackwell, wife of President Gordon W. Blackwell, First Lady, 1960-1965
Sally Blackburn, daughter, representing Mary Lanier Champion, wife of President John E. Champion, First Lady, 1965-1969
Stan Marshall, husband, representing Shirley Anne Slade Marshall, First Lady, 1969-1976.
Greta Lee Mustian, daughter, representing Ruth Margareta "Greta" Taube Sliger, wife of President Bernie Sliger, First Lady, 1977-1991.
Dale Lick, husband, representing Marilyn Kay Lick, First Lady, 1991-1994.
Sandy D'Alemberte, husband, representing Patsy Palmer, First Lady, 1994-2003.
T.K. Wetherell, husband, representing Virginia Wetherell, First Lady since 2003.
Alvin Lewis, who served as president from 1892- 1897 was single.
According to Donna McHugh, assistant vice president for Community Relations in University Relations, creators and supporters of this garden came from across the University community.
"We are so pleased that we now have a unique way of remembering and paying tribute to the first families of Florida State," McHugh said. "This is a beautiful, peaceful place that the university community can enjoy throughout the year. We are particularly grateful to those members of the university staff who created the pool and garden, among them, staff from facilities and design, construction, landscape design, grounds, and the Master Craftsman Studio."
Biographies of the First Ladies are posted at president.fsu.edu/firstladies.