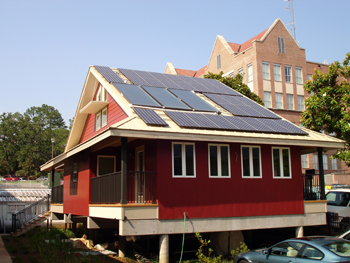 Its form is inviting — a red house on stilts with vaulted ceilings, reclaimed wood beams, angled windows and a contemporary décor. Yet despite its coziness, the house's purpose is nothing short of revolutionary: The solar-powered structure serves as a real-world testing facility for solar and hydrogen power, hydrogen combustion and other innovative clean-energy and design technologies developed at The Florida State University.
The Off-Grid Zero Emissions Building (OGZEB), as the house is known, has been officially unveiled in a dedication ceremony at Florida State. The 1,000-square-foot facility, nestled in the heart of campus near the Love Building, was developed, designed and built under the leadership of researchers from the university's Energy & Sustainability Center.
"The OGZEB is a test bed for developing and implementing cutting-edge technologies in both residential and commercial settings," said Anjane "Yulu" Krothapalli, the Don Fuqua Eminent Scholar Professor of Mechanical Engineering at Florida State and director of the center. "It also serves as an energy-efficient model for student living and office space."
The building is powered by solar energy collected from a solar array installed on the roof. The energy collected can be used for all of the facility's electrical needs, but it also powers an innovative system that converts water into hydrogen, which is then converted back into electricity when sunlight isn't available.
Justin Kramer, the OGZEB's project manager, is a graduate of the Florida A&M University-Florida State University College of Engineering. He completed his master's thesis on sustainable energy engineering with a focus on the OGZEB.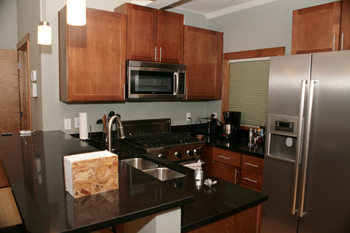 "Excess power is stored in a hydrogen system that takes excess electricity and uses it to split water molecules by using a water electrolysis device we developed, which separates water into its component elements of hydrogen and oxygen," Kramer said. "The oxygen gets vented into the atmosphere and the hydrogen is stored."
Kramer explained that the hydrogen is stored in tanks that are able to hold enough to produce up to 30 days' worth of electricity. So at night or on cloudy days, when electricity is not being produced by the solar panels, or if more power is ever needed, the stored hydrogen is recombined with oxygen in a fuel cell, producing more electricity for the house.
"It's a very cyclic and clean system," Kramer said. "The only byproduct coming out of the fuel cell is water vapor."
The OGZEB also uses a new technology to allow hydrogen combustion to be used in appliances. The house is furnished with a custom-retrofitted, hydrogen-burning Viking stove.
"The entire combustion technology was developed here at Florida State," Kramer said. "We researched hydrogen combustion to see what parameters were required to use it safely and efficiently. A hydrogen flame burns clean, and its only byproducts are heat and water vapor."
Kramer stressed that many people contributed to the OGZEB project, including professors and students from the Energy & Sustainability Center, the College of Engineering's Department of Mechanical Engineering, local architects and engineers, and companies from throughout the Southeast who develop sustainable energy technologies. The interior designer was Pam Andras, a graduate student from Florida State's Interior Design program.
The OGZEB is divided into separate living and office space, allowing each to function independently of the other. One of the missions of the project is to have graduate students live in the house for weeks at a time. By having people living there, the OGZEB and all of its systems will have prolonged exposure to many different conditions and variables. The office space is to be used by researchers to study the building's environment and its total functionality while occupied. Installed in every room are sensors that detect and record information on indoor air quality, carbon monoxide levels, organic chemicals, temperature and humidity. This data will help researchers determine how efficiently all of the technologies perform and interact with each other.
According to Kramer, the OGZEB was designed to rival the top environmentally friendly houses in the world. It has been registered to be LEED Platinum-certified, the highest level of certification awarded for energy efficiency standards given by the U.S. Green Building Council.
In addition to its clean power supply, some of OGZEB's other "green" features include a structured, insulated panel system that makes up the shell of the house. The system is extremely well insulated, produces little construction waste and is quick to assemble. In the interior, reclaimed wood was used throughout, and the exposed truss that supports the roof was recovered from an old barn. In addition, light-emitting diode (LED) lights, solar-thermal heating and geothermal heating and cooling systems are used. All of the OGZEB's mechanical systems are designed to be removable and easily replaced for research purposes and as technology progresses.