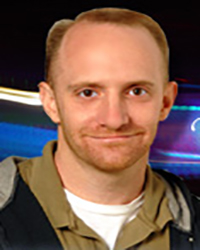 DreamWorks Pictures has a brand new filmmaker on their lot, welcomed by Steven Spielberg himself. Recent Florida State University Film School graduate Will Bigham triumphed over 12,000 other entrants to win the highly competitive reality show, "On the Lot," a Fox network program produced by Spielberg and Mark Burnett.
After the competition, Spielberg greeted Bigham at the DreamWorks gates, and then walked him to his new office and a $1 million development deal.
"We're thrilled for Will," said Frank Patterson, dean of Florida State's highly acclaimed Film School. "We're not surprised that Will performed well in the competition, given that the show's format is nearly identical to the Film School's curriculum. While his training gave him an edge, his raw talent earned him the win. Will has the DNA of a great filmmaker. That he's a person with superb character, too, makes us all very proud."
After finishing a global search and receiving more than 12,000 submissions, "On the Lot" producers selected a group of talented filmmakers for the competition. The finalists, three of whom were graduates of FSU's Film School, were gathered in Hollywood and divided into teams to engage in a series of filmmaking exercises.
Every week, the filmmakers created short films from a genre chosen by the producers. They struggled with crew, actors, time constraints, budgets and all the usual difficulties of filmmaking to complete their projects. The finished films were then debuted in front of a live studio audience, and millions of viewers at home critically evaluated their creative work.
Judges included actress-author-screenwriter Carrie Fisher ("Star Wars," "Postcards From the Edge") and director-producers Brett Ratner ("Rush Hour 3," "X-Men 3"), Garry Marshall ("Georgia Rule," "Pretty Woman") and Jon Avnet ("Fried Green Tomatoes," "Risky Business"). But the filmmakers were ultimately judged by the harshest critics of all—the public.
In the end, Bigham stood victorious with short films like "Lucky Penny," "Glass Eye," "Nerve Endings," "Unplugged" and "The Yes Men" to his credit. With a studio development deal, Will Bigham now faces a much bigger challenge: impressing Steven Spielberg, again.