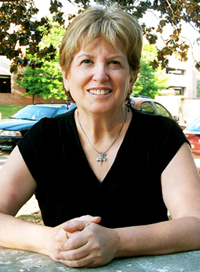 Longtime health care executive Lesley K. Sacher, the director of Florida State University's Thagard Student Health Center, has been named president of the American College Health Association (ACHA) for the 2007-08 academic year.
The ACHA also has honored Sacher by selecting her as a Fellow, the highest distinction awarded by the association. The fellowship recognizes members who have given outstanding service and demonstrated superior professional stature and performance in the college health field.
Founded in 1920, the ACHA is the principal advocate and leadership organization for college and university health in the United States.
"I am grateful for the honors bestowed upon me by the ACHA and excited about the opportunity to serve its membership in the coming year as president," said Sacher, whose term as head of the nonprofit association began June 1 following her election at the association's annual meeting.
Armed with a master's degree in health administration from Ohio State University, Sacher—also a Fellow with the American College of Healthcare Executives—is a Certified Healthcare Executive who spent 25 years in the nonprofit private health care arena before moving to FSU and college health in 1999 as Thagard director. She became a member of ACHA the same year, and eventually served as president of its regional affiliate, the Southern College Health Association. During the 2006-2007 academic year, she served as ACHA president-elect and program planner.
"Lesley Sacher has impressed colleagues and students alike with her drive, persistence and problem-solving skills," said Mary Coburn, FSU vice president for Student Affairs. "She is credited with improving Thagard by providing direction, fiscal management, and a student-oriented approach to health care. What's more, she is noted for her ability to understand the complex issues faced by college health professionals as they support the holistic care of university students."
An experienced addictions treatment professional, Sacher has played a key role in prevention, education and treatment services on a local, regional and national basis, both while in Florida and in Ohio. She currently serves as the principal investigator for "A Matter of Degree," a program aimed at reducing high-risk drinking, and a component of FSU's Partnership for Alcohol Responsibility—one of 10 campus/community coalitions nationwide that are funded by the Robert Wood Johnson Foundation, administered by the American Medical Association and evaluated by the Harvard School of Public Health.
For additional information about FSU's Thagard Student Health Center, visit the Web site at www.tshc.fsu.edu.
To learn more about the ACHA, which represents the interests of college health professionals, promotes research, and provides education, advocacy and services to advance the well-being of students and campus communities, visit www.acha.org.