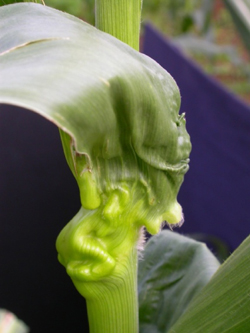 A bizarre maze of crazy corn—make that a living field map of the maize genome, says Florida State University biologist Hank Bass—will be on display from 9:30 a.m. to 3:30 p.m. Friday, June 23, during "Maize-10-Maze" Field Day 2006, to be held at Florida A&M University's Research Farm in Quincy.
Coordinated by FSU's biological science department and FAMU's College of Engineering Sciences, Technology & Agriculture (CESTA), the collaborative science outreach event is open to the public, free of charge, and includes a cookout lunch and cold drinks. Educational or summer camp groups are welcome.
Self-guided tours through the colorful Maize-10-Maze will showcase nearly 100 mutant corn families, each representing a single gene mutation in one of corn's 10 chromosomes. The field model of ongoing maize genome research led by FSU Associate Professor Bass serves to illustrate genetic control of plant growth and development.
"You'll have to see it to believe it," said Bass of the "corny" mutants, adding that June is a perfect time to view what he describes as a sort of botanical carnival freak show. Among many unusual specimens in the Maize-10-Maze are albino and six-inch-high dwarf mutants along with a "lazy mutant" that prefers to lie on the ground rather than stand up straight.
High school student participants in FAMU's FACE program (Forestry and Conservation Education) will co-host the "a-maizing" event. FACE—a summer outreach initiative co-directed by FAMU/CESTA Professor Oghenekome Onokpise and Associate Professor Dreamal Worthen—encourages African-American teens and other minorities in low-income counties to consider the science of plant genetics for future careers in food production, forestry and natural resources management.
In addition to youthful hosts from FACE, Maize-10-Maze Field Day will feature an exhibit of middle school projects from Leon County's School of Arts and Sciences.
This summer's Field Day is the third for FSU's Cytogenetic Map of Maize outreach project and the first Maize-10-Maze collaboration with FAMU; another is planned for 2007. By the end of the four-year-long study—funded in 2003 by a $1.5 million National Science Foundation grant—Bass and fellow FSU researchers aim to draw a detailed cytogenetic map of corn that will help to grow tastier, healthier, heartier and more diverse varieties of this American agricultural workhorse.
For additional information on Maize-10-Maze Field Day 2006 and the scientific research on which it's based—or for rain date information in the event of a weather-related cancellation June 23—please visit http://www.cytomaize.org/outreach/2006/.
DIRECTIONS TO FAMU RESEARCH FARM: FROM TALLAHASSEE, TAKE 1-10 WEST TO HIGHWAY 90 WEST TO HIGHWAY 267 NORTH IN QUINCY. THE FARM IS ON THE LEFT SIDE OF THE ROAD AT THE WHITE PICKET FENCE, 5-6 MILES NORTH OF DOWNTOWN QUINCY ON HIGHWAY 267.
To learn more about FAMU's College of Engineering Sciences, Technology & Agriculture (CESTA), please visit http://www.famu.edu/acad/colleges/cesta/.