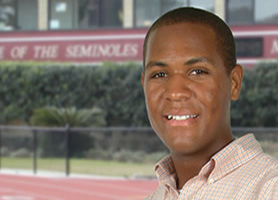 Florida State University student-athlete Garrett Johnson already had accrued an impressive list of accomplishments during his college career. Now he can add an academic award that represents the pinnacle of scholarly achievement: He has been named a Rhodes Scholar.
Johnson, 21, a Tampa native and a graduate student studying public administration at FSU, was selected for the Rhodes Scholarship over the weekend in Birmingham, Ala. He becomes one of only 32 college students from throughout the United States who were chosen for Rhodes Scholarships this year. (Approximately 63 more were chosen from other countries.)
"All of us within the FSU community are tremendously proud of Garrett for what he has accomplished throughout his collegiate career," said FSU President T.K. Wetherell. "The Rhodes Scholarship merely confirms what we have known all along—that this is a tremendous young man with a very bright future ahead of him. He has represented us well, and we're honored that he selected FSU as his academic home for both undergraduate and graduate studies."
During his time at FSU, Johnson has amassed an impressive list of honors, including:
Achieving ESPN Academic All-American status in 2005 as a track and field athlete—only the second FSU track and field athlete to receive the honor
Setting several FSU track and field records in the shot put
Coming back from a life-threatening illness to graduate magna cum laude in just three years with a double major—in political science and English
Receiving the Golden Torch award, given each year to the FSU student-athlete with the highest GPA
Working part time in the office of Florida Gov. Jeb Bush
"This is an honor for Garrett, Florida State University and all Floridians," the governor said. "Garrett's achievement in becoming a Rhodes Scholar demonstrates his leadership, dedication to public service and commitment to excellence. He is an example to all Florida students who are striving for academic success."
FSU Athletic Director Dave Hart echoed those sentiments.
"With the exception of his parents and family, no one was as proud and happy for Garrett as I was upon being informed that this extremely prestigious honor had been afforded him," Hart said. "Garrett embodies all the qualities any university seeks in young people. He is a mature young man who possesses terrific core values as well as leadership abilities. He is competitive and compassionate. I feel very, very fortunate to have been associated with a student-athlete, and human being, who epitomizes the class, values and priorities that make working with young people so gratifying. He has made everyone at Florida State University extraordinarily proud today, particularly his peers and others within our athletics department."
Johnson becomes the second FSU student ever to have been selected as a Rhodes Scholar. The first was Caroline Alexander, who received the honor in 1976. Alexander went on to become a successful author; her books include "The Bounty: The True Story of the Mutiny on the Bounty" and "Battle's End: A Seminole Football Team Revisited."
In addition to Johnson's own achievements, the Rhodes honor is in part a result of FSU's renewed focus on serving its students by making them aware of more than 50 nationally competitive undergraduate and graduate scholarships, identifying qualified students and mentoring them through the application process in order to prepare them to succeed. The university's Office of National Fellowships (http://onf.fsu.edu) was formed earlier this year to accomplish these goals.
"Competing for any national fellowship is an arduous process, but the Rhodes Scholarship is particularly grueling," said Jody Spooner, director of the Office of National Fellowships.
"Garrett was selected from a field of 65 very competitive applicants from Florida, Alabama and Tennessee. His selection is a testament to his tremendous work ethic and determination. He kept himself focused on the application process non-stop for more than six months—I believe he simply out-worked the other candidates."
The Rhodes Scholarships, oldest of the international study awards available to American students, were created in 1902 by the Will of Cecil Rhodes, a British philanthropist and colonial pioneer. The scholarships provide two or three years of study at Oxford University in Great Britain. The first class of American Rhodes Scholars entered Oxford in 1904. Visit www.rhodesscholar.org for more information.