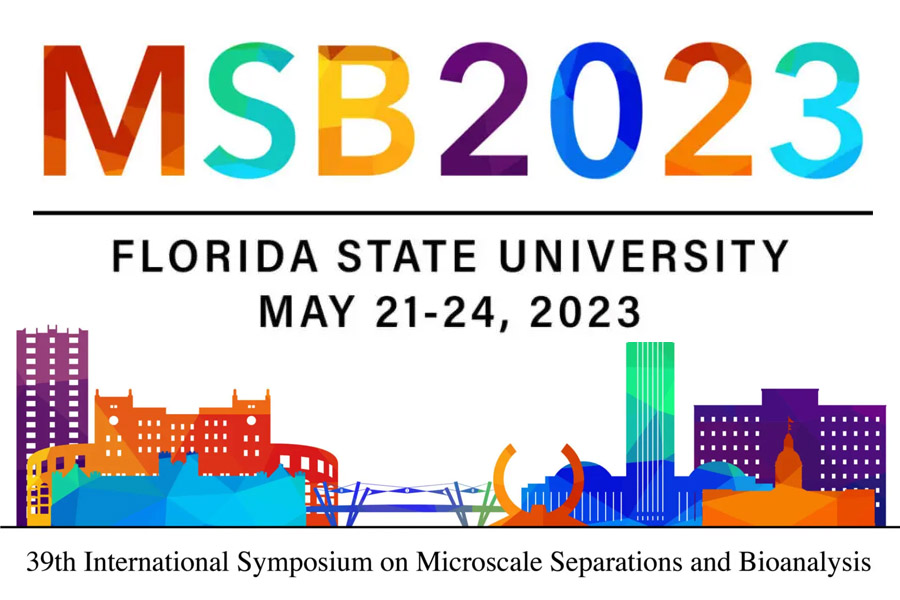 Florida State University will welcome researchers from around the world as it hosts the 39th International Symposium on Microscale Separations and Bioanalysis, or MSB 2023, from May 21-24 at the Augustus B. Turnbull III Florida State Conference Center.
The four-day annual symposium brings together researchers, practitioners and industry professionals to discuss their latest research findings in the fields of separation science and bioanalysis, which encompass the different methods of analyzing biological systems with high sensitivity, speed and resolution.
"We are incredibly excited about hosting MSB 2023 at FSU," said event chair Michael Roper, the Cottrell Family Professor with the Department of Chemistry and Biochemistry. "It is a unique opportunity for our department to showcase our innovative research and connect with other experts in the field."
MSB 2023 will cover a wide range of topics related to microscale separations, which enable researchers to conduct high-performance analyses at reduced costs with a lower demand for the use of samples and solvents. These techniques make for highly competitive analytical approaches and are used in fundamental studies, drug discovery and development, clinical and forensic toxicology, food analysis and more.
"The MSB conference is renowned in the field and provides attendees with a valuable opportunity to learn about the latest developments in bioanalytical chemistry, connect with professionals, and network with other participants," Roper said. "Students looking to enter the industry can benefit by learning about the latest developments and making connections with potential employers."
Apart from the technical program, MSB 2023 will feature keynote lectures by eminent scientists in the field, along with workshops, presentations and poster sessions. The conference also provides opportunities for attendees to network with colleagues, meet vendors and exhibitors showcasing the latest separation and analysis technologies, and explore potential collaborations.
This year's plenary speakers include Robert T. Kennedy, the Hobart H. Willard Distinguished University Professor of Chemistry and Professor of Pharmacology at the University of Michigan; Cherie Stabler, the Integra LifeSciences Term Professor in the Department of Biomedical Engineering in the College of Engineering at the University of Florida; and Facundo Fernandez, Regents' Professor and Vasser-Woolley Chair in Bioanalytical Chemistry at the Georgia Institute of Technology.
Assistant Professor Robert Lazenby and research faculty Fanny Caroline Liu from the FSU Department of Chemistry and Biochemistry are organizers for this year's event.
Presentations at MSB 2023 will cover the latest advancements in chromatography, capillary electrophoresis, ion mobility and mass spectrometry, cell-based assays, microfluidics and microfabrication, and other bioanalytical methods and applications pertaining to DNA evidence, cancer research, COVID-19 and more. The symposium will also offer several short courses, including Introduction to Capillary Liquid Chromatography, Fundamentals and Applications of Ion Mobility Spectrometry, and Capillary Electrophoresis-Mass Spectrometry for Metabolomics: Principles and Applications.
"We are honored to host MSB 2023, a timely event that meshes well with our current focus on building FSU Health," said Sam Huckaba, dean of the FSU College of Arts and Sciences. "Michael Roper and his colleagues have organized an impressive conference with a distinguished list of participants."
This year's event will also include the 3-Minute Research Showcase for qualifying graduate students, postdoctoral scholars and early career scientists. The showcase, adapted from the popular 3-Minute Thesis (3MT) competition, will feature cash prizes for the winning participants.
"We believe hosting such a prestigious event will elevate the university's reputation and increase its visibility in the scientific community," Roper said. "We cannot wait to experience the positive impact this event will have on our department and the university as a whole."
The annual MSB symposium is organized by the Society for Microscale Separations and Bioanalysis, an independent, non-profit organization committed to promoting the development and applications of microscale separations.
To read more about the MSB 2023 presenters and view the complete conference program, visit msb-conferences.org.