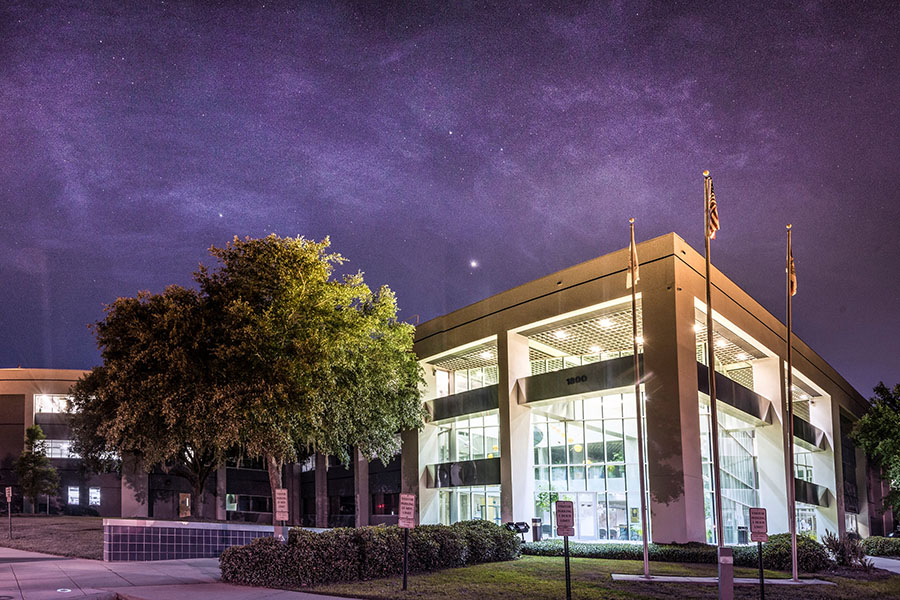 Flip the timer, roll the dice, play your cards.
The Florida State University-headquartered National High Magnetic Field Laboratory, the only national lab in the state of Florida, will celebrate the fun of science using some of your favorite games during its 2023 Open House where it will be "Game On for Hands-On Science Fun."
The free science festival will take place from 10 a.m. to 3 p.m. Saturday, Feb. 25, 2023, at the MagLab's FSU location, 1800 E. Paul Dirac Drive, in Tallahassee's Innovation Park.
This event has become a community tradition dating back nearly 30 years to the MagLab's opening in 1994. It gives the public a chance to explore the world's largest and highest-powered magnet lab, meet the brilliant scientists and staff who work there, and experience brain-teasing hands-on science demonstrations and activities.
This year's game-themed event will include one-of-a-kind experiences based on classic board games, video games, carnival games and even TV game shows. There will be life-sized science-themed versions of classic games like "Connect Four," "Operation," and "Candyland," an entire room of Mario-inspired activities, and special MagLab versions of your favorite TV game shows like Jeopardy, Pictionary and Match Game.
You've never played "Name That Tune" quite like this — participants will actually get to "see" the sound waves.
Guests also can test their skills in carnival games with a scientific spin like ring toss, magnetic horseshoes and strength-tester games.
"We hope this event inspires people to see the science at the heart of many games, and the parallels between games and MagLab research," said Kristin Roberts, director of Public Affairs at the MagLab. "Just like in any good game, searching for answers using the world's most powerful magnets requires skill, strategy, perseverance and sometimes a little luck."
On top of all the new fun and games, the MagLab Open House will continue to offer several fan favorite science demonstrations, including the Quarter Shrinker that can shrink quarters to the size of dimes with pulsed magnets, Einstein's Ice Cream made from cool science cryogens, and a powerful Potato Launcher. Visitors can also witness the force of a junkyard magnet as it crushes gallon jugs, melons and other unexpected items, see a levitating model train, watch a giant sand-powered pendulum swing, and marvel at liquid nitrogen powering a rocket car.
Guests looking for a snack won't be disappointed either — delicious meals and treats will be served up by vendors including Street Chefs, Mr. JB's BBQ, Smackin' Good Wings, Fired Up Pizza, Sandy's Sandwiches, Mom & Dad's Italian Restaurant, Kettle Korn Poppery, and Kona Ice.
Thousands are expected to attend as the event resumes in-person for the first time since 2020.
"We are so excited for science fans of all ages to come back and see us again at the MagLab," said Greg Boebinger, director of the MagLab. "After a few years of not being able to hold this event, we're eager to show off our facility and share our passion for science and discovery. We're ready to rock and roll."
Other community groups, agencies and organizations will also be on-site to share their enthusiasm for science and learning, including the Gulf Specimen Marine Lab, St. Marks Wildlife Refuge, Challenger Learning Center, Tallahassee Astronomical Society, Tall Timbers, Sea-to-See, WFSU Education, Southeast Archeological Center, FSU Coastal & Marine Lab, MoLab, Cornerstone Learning Community, SAIL High School, The Magnolia School, and LeMoyne Arts.
Several of the lab's Innovation Park neighbors also will be open for the public, including the High-Performance Materials Research Institute, the Florida Center for Reading Research, the Resilient Infrastructure & Disaster Response (RIDER) Center, and the Florida Center for Advanced Aero-Propulsion, Mechatronics & Energy Building.
Funded by the National Science Foundation (NSF) and the State of Florida, the National MagLab features some of the strongest magnets in the world, supported by highly experienced staff scientists and technicians. This year, the NSF also will be on-site at Open House to share how they invest in research in all 50 countries and U.S. territories to probe the unknown as they inspire young scientists to dream big.
Nearly 2,000 researchers from around the world visit the lab annually to use its unique equipment, probing fundamental questions about materials, energy, health, technology, the environment and the mysteries of the universe.
"We appreciate the pride Tallahassee has in this world-class research facility," Boebinger said. "The Open House is a chance to celebrate together."