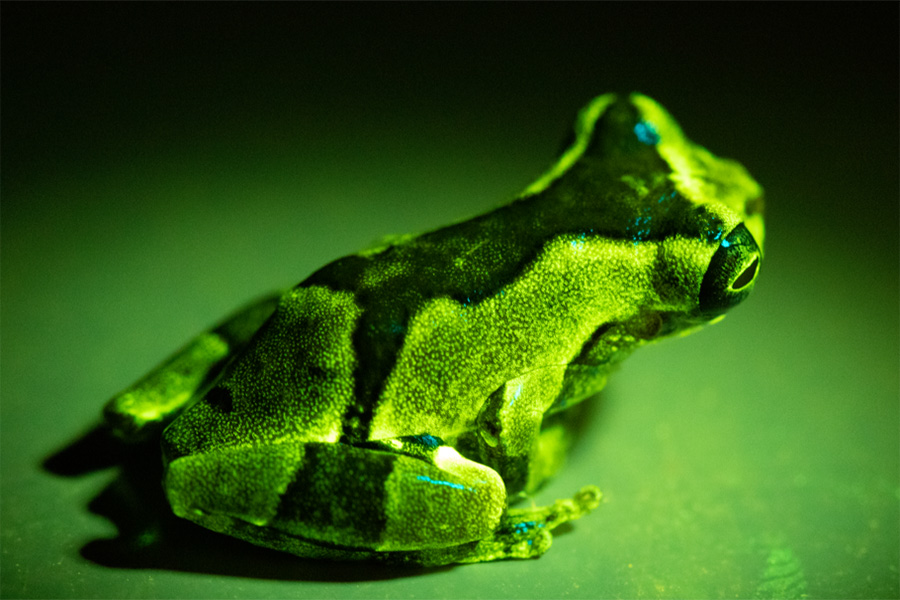 Courtney Whitcher always loved biology and learning about how things work.
Little did she know that she'd find an interest in the world of biofluorescence and the world of amphibians.
"And then a biofluorescent frog brought my two worlds together," she said.
Whitcher indeed has hopped into a glowing field as a doctoral candidate in ecology and evolutionary biology at Florida State University. She recently traveled to South America on a monthslong excursion, visiting eight sites across Ecuador, Colombia, Peru and Brazil in search of biofluorescence.
There she took thousands of photographs and built an elaborate database that she's using to uncover the mystery of fluorescence in amphibians.
"She is tackling novel research questions that involve traveling to remote regions of the tropical rainforest with expensive state-of-the-art equipment," said Emily Lemmon, a professor in FSU's Department of Biological Science. "Only an organizationally gifted and absolutely determined student could overcome all the obstacles that she has conquered to carry out this work."
The first discovery of fluorescence in frogs was a complete accident — someone had a black light UV light, shone it on a frog and then did a double take.
Research on biofluorescence in frogs so far has documented only a few different species. Whitcher's dissertation focuses on discovering and documenting the diversity of biofluorescence in multiple species of frogs and amphibians in general and on trying to figure out the mechanism and the function of that fluorescence.
"In the frog research world, we study a lot about their calls," she said. "We know that auditory cues are important, but I think that fluorescence specifically could be a missed visual cue that we just haven't studied before, one that they could also be utilizing to communicate with each other."
Bioluminescence is what most people think of when you mention a glowing species. It's generated by a chemical or biological reaction created within the organism's body. Every organism that is bioluminescent, like fireflies or anglerfish, does it through the same mechanism, molecule and chemical.
Biofluorescence occurs when higher energy wavelengths of light, such as ultra-violet or blue light, are absorbed and subsequently reemitted at lower energy wavelengths in living organisms, resulting in a glow with brilliant fluorescent colors including blues, greens and reds.
"Instead of producing their own light, biofluorescent organisms take light from the environment and then re-emit it at a longer wavelength, or a different color," Whitcher said. "You have the biological production of light with bioluminescence, but it's more about manipulating light from the environment in biofluorescence."
Researchers speculate that biofluorescence can lure prey, attract mates, warn off predators or provide camouflage, yet it's a relatively new field of study that could offer benefits for everything from conservation to biomedical research.
Most other examples of biofluorescence have been observed in marine environments, because a lot of fluorescence takes in blue light. For example, the 2008 Nobel Prize in Chemistry was awarded to three researchers for the discovery and development of the green fluorescent protein, which was sequestered from a jellyfish.
"Fluorophores and other fluorescent molecules are used to image and examine small molecular interactions in human medical research," Whitcher said. "The discovery of new fluorescent proteins could increase the color range spectrum of tags used in medical applications to study things like Alzheimer's disease and cancer. This would improve researchers' understanding of different molecular interactions and impact research on important biological aspects for human health."
Whitcher, of St. Clair Shores, Mich., found her passion for reptiles and amphibians as an undergraduate research assistant at the University of Michigan, where she looked at enhancing biofluorescence in hemoglobin for human medical applications. But she missed a connection to the outdoors that she developed a devotion to while on a high school trip to a rainforest in Costa Rica.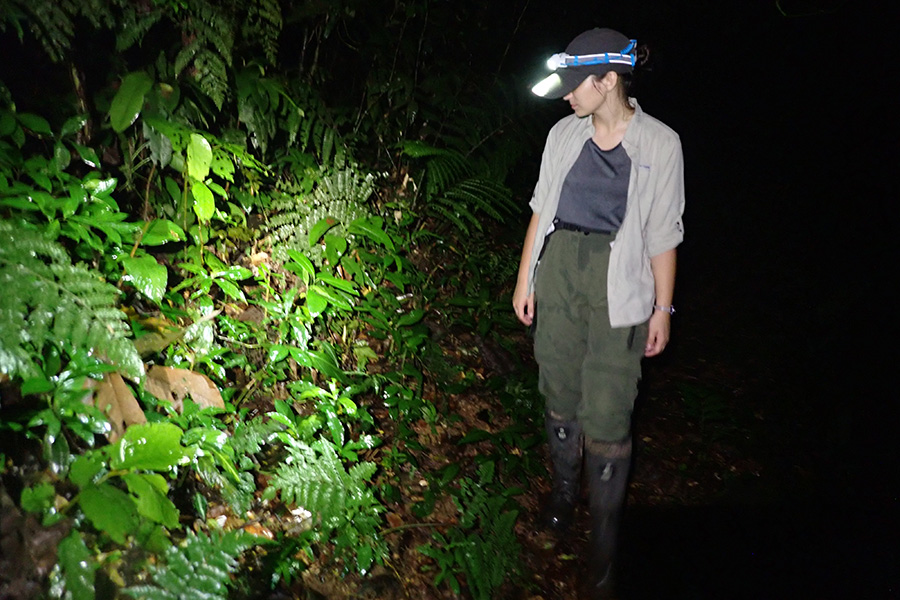 She started working in the research collections at the University of Michigan's Museum of Zoology. She worked in the herpetology collection, which encompasses amphibians and reptiles, and that's where she started to see differences in frog patterns across different countries and locations as well as pattern variation within a species.
"I studied biofluorescence, and I studied frogs and found my love for that, and then a biofluorescent frog brought my two worlds together," Whitcher said, "and that's why I came to grad school, to try to figure out what is going on there and what the mechanism and function of that trait is."
She considered labs across the country and discovered Lemmon, the professor in FSU's Department of Biological Science. Lemmon's research interests focus on trait evolution and how it affects speciation, which Whitcher found applicable to some of her own questions.
For her initial visit to FSU, she squeezed rubber boots into her carry-on so she could go out with Lemmon and other members of the lab to catch salamanders around Tallahassee. The experience led Whitcher to choose FSU and begin her doctoral studies in the fall of 2019.
"I thought that the lab was not just supportive but also had the fun field aspects that I was really craving in a Ph.D. program, and all of those pieces combined really made FSU an easy choice for me," she said. "The faculty here at FSU are incredible resources of knowledge, and they really want you to not just succeed, but to become the scientist that you want to be, in whatever way that means for you."
During Whitcher's interview, Lemmon said, it was clear that Whitcher's vision for her Ph.D. work was independent of most of the research in her lab. Yet she saw a spark of brilliance in her ideas.
"Courtney is one of those students who not only dreams big but has the capacity to take hold of those dreams and make them a reality," Lemmon said.
This past spring, Whitcher traveled to South America, where she tested 528 individual amphibians from 165 species and took more than 17,000 spectrometer recordings of biofluorescence. With nearly 25,000 photographs and thousands of tissue samples, Whitcher's data contains numerous discoveries of biofluorescence in new species of frogs and information she hopes will get us closer to figuring out the mechanism and function of fluorescence in amphibians.
"Anything that I find through this research will be adding to our collective knowledge about this novel topic, and I think that that is really comforting," she said.
Whitcher's expedition was supported by several grants, including the Society for Systematic Biologists Graduate Student Research Award, the FSU Horace Loftin Endowment, the FSU Martin Family Graduate Fellowship in Biological Sciences and the FSU Robert B. Short Scholarship in Zoology.
"It's exciting that there are so many possibilities of where I could take this work," she said, "and I get to ask so many new, intriguing questions."
To learn more about ways for graduate students to fund their academic interests, visit FSU's Office of Graduate Fellowships and Awards at ogfa.fsu.edu. For more information about the Department of Biological Science, visit bio.fsu.edu.