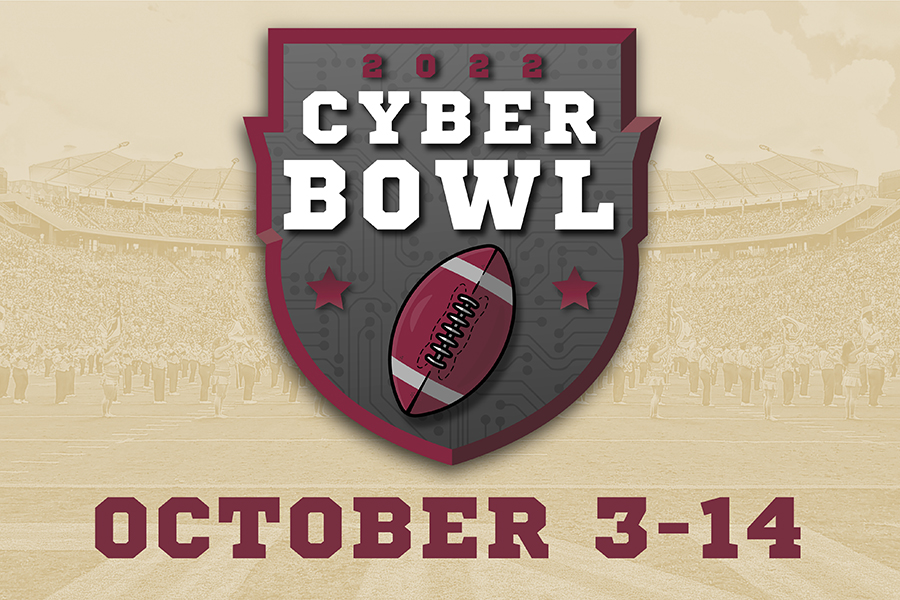 Florida State University and the University of Florida Information Technology Services departments are hosting a two-week football-themed challenge to encourage online safety.
The Cyber Bowl runs Oct. 3-14 and aims to test students' and employees' defense against cyber threats. Players take the (virtual) field and tackle five challenging questions — ranging from phishing blindsides to intercepted credit cards — to help their school bring home the cybersecurity championship.
The Cyber Bowl is happening during National Cybersecurity Awareness Month, a collaborative effort of government and industry to raise awareness about the importance of cybersecurity and to ensure all Americans have the resources they need to be safer and more secure online.
"The UF and FSU rivalry is huge," said Bill Hunkapiller, chief information security officer at FSU. "We wanted to encourage some friendly competition to get people thinking about cybersecurity in a fun and spirited way."
The school with the highest number of unique game entries by current students and employees will earn the title of Cybersecurity Champion.
All current FSU students and employees who play are entered into a grand prize drawing to win one of two pairs of tickets to the Florida vs. Florida State football game at Doak Campbell Stadium on Nov. 25. FSU students also can win a $500 tuition scholarship.
"Cybersecurity threats are never going away — kind of like the UF and FSU rivalry," Hunkapiller said. "But maybe we can find a way to work together toward a common threat and get people at both universities thinking more about making smart decisions online."
In addition to the online game, Noles can attend virtual cybersecurity training sessions on topics such as phishing and data resilience.
For more information and to play the Cyber Bowl, visit its.fsu.edu/cybersecurity.