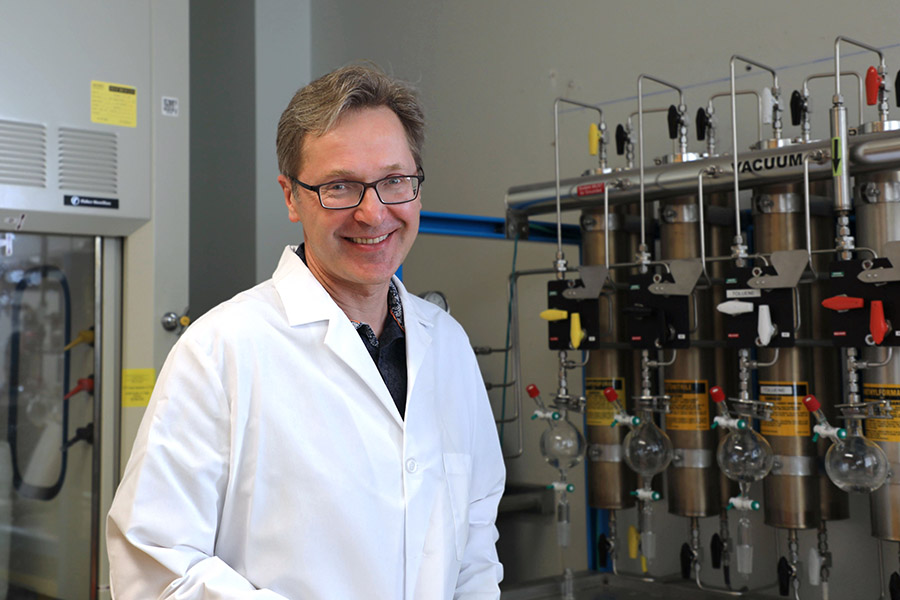 A decorated Florida State University chemist has received another prestigious award from the American Chemical Society.
Igor Alabugin, a Distinguished Research Professor with the Department of Chemistry and Biochemistry, was selected by the Florida chapter of the ACS to receive the 2022 Florida Award in recognition of his contributions to the chemistry field.
"I am immensely glad to receive this award as all of my independent career has been in the great state of Florida," Alabugin said. "It reflects my own scientific journey and the contributions of many students and colleagues at Florida State University."
The Florida Award is the latest in an extensive list of accolades for Alabugin, who in 2020 received one of the most prestigious awards in organic chemistry, the ACS's Arthur C. Cope Scholar Award. He followed that with FSU's 2021-2022 Distinguished Research Professor Award.
ACS established the Florida Award in 1952 to recognize leadership and contributions toward the advancement of the chemistry profession, and it is presented annually to one chemist in the southeastern U.S. who has made significant contributions to teaching, research, publications or service in chemistry.
Alabugin earned his doctorate from Moscow State University in 1995 and completed postdoctoral studies at the University of Wisconsin-Madison before joining FSU's Department of Chemistry and Biochemistry in 2000.
He serves on the editorial board of the Journal of Physical Organic Chemistry as the U.S. representative for the International Union of Pure and Applied Chemistry Subcommittee on Structural and Mechanistic Chemistry. He also serves on the advisory boards of several journals and conferences.
"The greatest thing about chemistry is that it both requires one to be creative and allows for creativity," Alabugin said. "The chemical universe is limitless, and the nature of research is open-ended."
Alabugin specializes in organic synthesis and catalysis, computational chemistry, nanoscience and photochemistry. His research continues to focus on designing new chemical reactions and unusual molecules, presenting new possibilities for interconnection between diverse types of functional groups. These interconnections can carve out new pathways for discoveries that save time and money, reduce waste and open access to innovative technologies, Alabugin said.
"Once one truly tries to understand chemistry, everything becomes connected," he said. "Our studies of light-activated reactive molecules that could selectively damage DNA in cancer cells led to the redesign of the classic rules for making cyclic molecules — the textbook 'Baldwin rules.' In turn, the better control of cycle-forming reactions paved the way to using alkynes as high-energy carbon-rich precursors to the preparation of molecules that can serve as components of molecular electronics or reagents for biorthogonal chemistry."
Alabugin previously won a Fulbright Scholar Award and had been named a Fellow of the American Association for the Advancement of Science. Also, he was the first faculty member awarded all three FSU Undergraduate Awards — Teaching, Advising and Research Mentor.
"I am pleased to offer my heartiest congratulations to Igor on this latest award," said Sam Huckaba, dean of the College of Arts and Sciences. "His professional productivity and excellence continue to earn accolades from the academic community, shining a bright light on our outstanding Department of Chemistry and Biochemistry."
Eighteen Florida State University faculty members have been selected for the award in the seven decades since its inception. They include renowned chemists Karl Dittmer, Michael Kasha, Jack Saltiel and Joe Schlenoff.
Alabugin will accept the award and give an address in August at the Florida Annual Meeting and Exposition, or FAME, in Palm Harbor.
To learn more about FAME and the FL Award, visit fame2020.fl-acs.org.