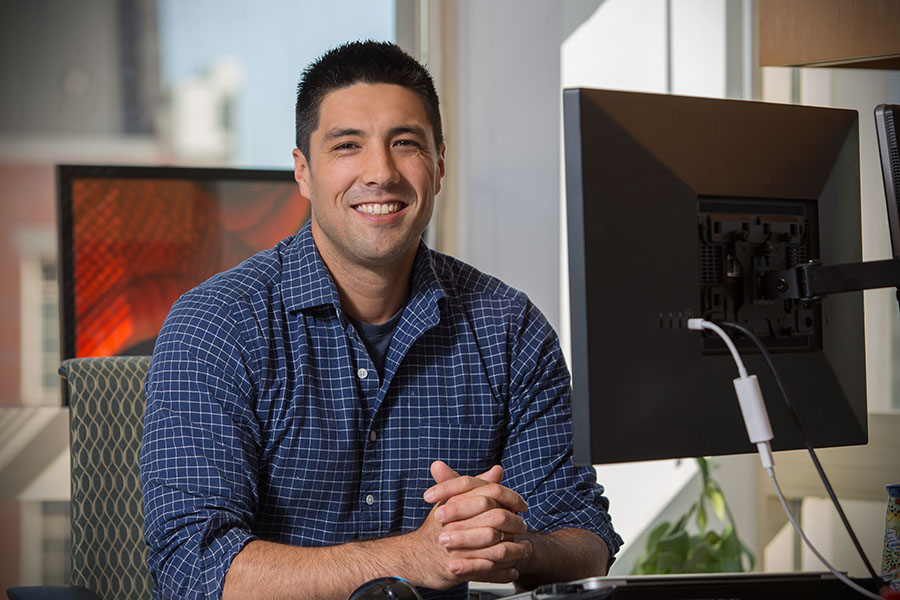 A Florida State University biologist has been awarded a prestigious fellowship that supports experts seeking solutions to critical challenges facing the world's oceans.
Daniel Okamoto, an assistant professor in FSU's Department of Biological Science, has been named by The Pew Charitable Trusts as a recipient of the 2022 Pew fellowship in marine conservation. He will receive $150,000 over three years to study northern abalone populations in British Columbia's Haida Gwaii archipelago, where abalone — a species of large sea snail —are a traditional and culturally important food source for the Indigenous Canadian First Nations.
"The project will bring together scientists and community partners to create management plans for this endangered species and, due to the integrated nature of this work, it could have a large impact on conservation-oriented goals," Okamoto said.
Populations of northern abalone have declined in recent decades in Haida Gwaii, after Canadian commercial fisheries began targeting the mollusks in the mid-20th century. In 1990, northern abalone was listed as endangered under the Canadian Species at Risk Act, limiting the ability of the Haida people to conduct traditional harvests. In addition, another endangered species, the sea otter, is a dominant predator whose recovery is placing further stress on northern abalone populations.
Okamoto's research will focus on informing efforts to balance the ecological and cultural importance of abalone to Haida Gwaii's Indigenous population in the face of climate change and the recovery of predators. To achieve this, he'll work in partnership with the Council of the Haida Nation and Parks Canada to conduct a retrospective analysis of local northern abalone populations, collect relevant climate and ecological data, and develop scientific and mathematical models to evaluate likely impacts made by a traditional Haida abalone fishery, recovery of predators, and climate change. Okamoto also will assemble a working group of Haida scientists, managers, and experts to pilot an ecosystem-based management plan for northern abalone in Haida Gwaii.
"Historically, conservation has struggled to merge science with equity," Okamoto said. "My work aims to understand ecosystem dynamics through multidisciplinary sciences including field ecology, fisheries science, and advanced statistical and computational modeling, to generate conservation strategies that are equitable and just through collaboration with communities and social scientists. This Pew fellowship will aid in the construction of novel ecosystem models and management plans to support stewardship of nearshore marine ecosystems, sustainable fisheries, and endangered northern abalone by the Haida Nation."
The probability that conservation goals will be met is greatly enhanced by a coordinated partnership between researchers and traditional knowledge holders such as fishermen and community members, said Nate Spindel, an FSU doctoral student in biology and member of Okamoto's lab.
"Drawing on the traditional knowledge of these Indigenous communities, including the Haida Nation, as well as accounting for interactions among important co-occurring species such as other competing invertebrates and predators like sea otters, is essential for improving ecosystem-based management," Spindel said. "Developing improved management plans that integrate multiple species is a critical avenue of research for FSU students studying during an era of multiple overlapping stressors on marine resources including overharvest and climate change."
The Pew Charitable Trusts, a global nongovernmental organization, has recognized 195 marine fellows spanning 41 countries over the past 26 years. Okamoto is among six fellows selected for 2022 and is just the second FSU faculty member ever to receive the honor — Felicia Coleman, who retired as director of the FSU Coastal and Marine Laboratory in 2020, received the award in 2001.
"The Pew Fellowship identifies and rewards impactful research, a characteristic of Dan's portfolio," said Sam Huckaba, dean of the FSU College of Arts and Sciences. "I am so pleased to congratulate him and express our admiration for his being chosen to join such a select group."
The award recognizes Okamoto as an emerging leader in marine conservation, said Joseph Travis, a Robert O. Lawton Distinguished Professor in the biological science department and a mentor to Okamoto since his arrival at FSU.
"Having leaders like Dan on the faculty makes all of us better scientists and it offers students at Florida State the chance to take classes taught by internationally recognized experts," Travis said.
Okamoto earned a doctorate in ecology, evolution, and marine biology from the University of California, Santa Barbara. He holds a master's in fisheries science from the University of Alaska Fairbanks and a bachelor's of science in biology and fisheries from the University of Washington.