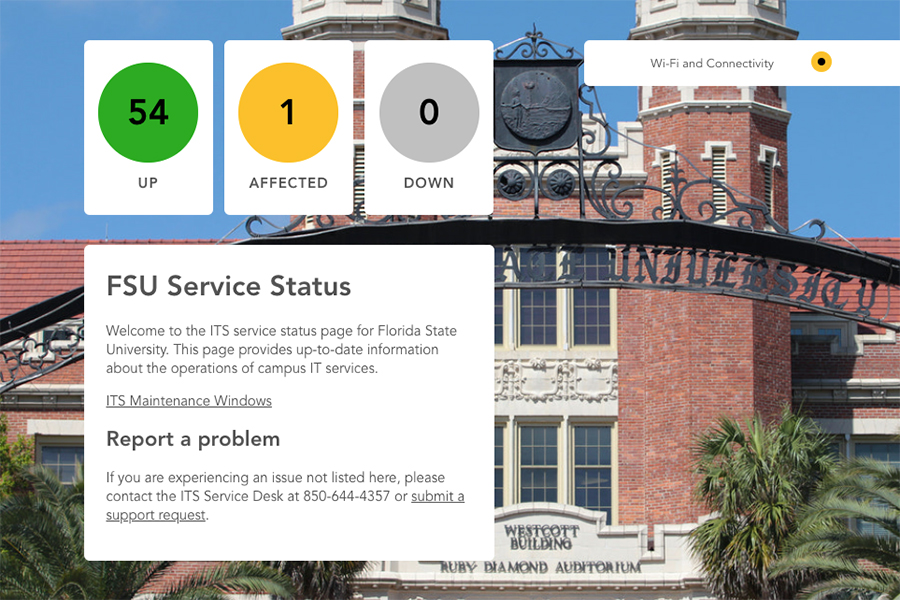 Florida State University's Information Technology Services (ITS) has revamped the FSU Service Status page with new subscription options and features.
The new page, powered by StatusHub, provides real-time updates about the operations of important campus IT services and the status of each common campus application. With these new features, understanding the content of the page is made more user-friendly and mobile compatible.
"We are excited for this new interface which will allow faculty, staff and students to know the availability of our services with a click of a mouse," said Rebekah Dorn, director of Change Leadership and Planning for ITS. "In addition to quick and transparent communication on the services that matter most to that individual, we can also look at trends of outages so we can continuously improve the user experience."
Using a color-coded system, users can see if a site is operating normally (green), having performance issues (yellow) or experiencing a service disruption (red).
Users also can view past, present and planned maintenance service disruptions.
"One of the most beneficial features on this page is the ability to self-subscribe and receive notifications that are important to you," said Derek Kooi, a support specialist for ITS. "You can choose which services you receive alerts for and can even opt to receive only the first and last message so your inbox will not be cluttered with all the messages in between."
With this new subscription feature, users can subscribe through email, text or Microsoft Teams.
For more information, visit status.fsu.edu.