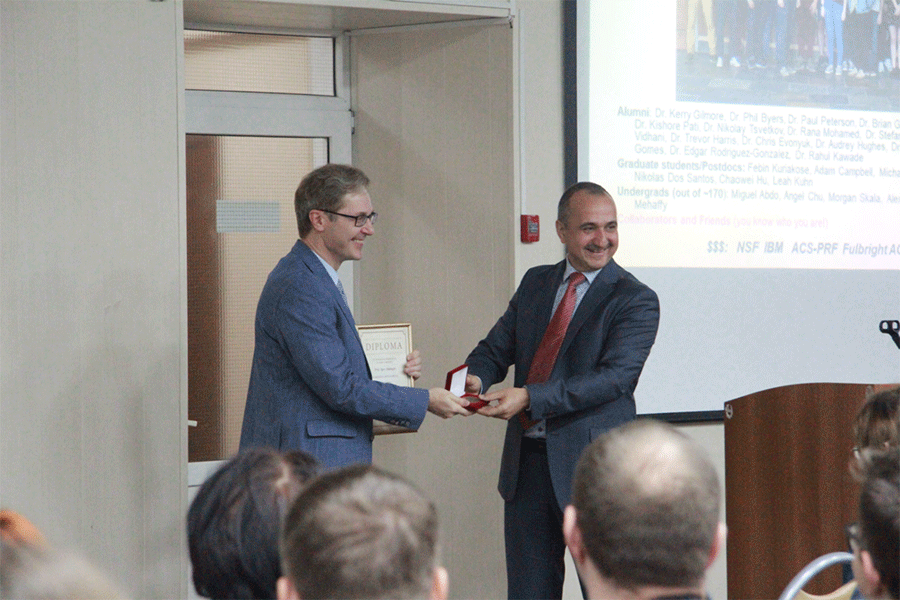 A Florida State University professor has received two recognitions reserved for some of the greatest minds in organic chemistry — the Markovnikov Medal from Moscow State University and an Honorable Professorship from St. Petersburg State University.
Igor Alabugin, a professor in FSU's Department of Chemistry and Biochemistry, part of the College of Arts and Sciences, was awarded the Markovnikov Medal from Russia's largest and highest-ranked university in recognition of his outstanding achievement in the field of organic chemistry. Alabugin, who specializes in organic synthesis and catalysis, computational chemistry, nanoscience and photochemistry, joined the FSU faculty in 2000.
"This is a recognition from your peers, all based on what they think about you as a scientist," Alabugin said. "It's surreal and humbling because it is not something you ask for, you don't know if you get nominated, you just receive the news."
The medal was presented Oct. 10 at the Markovnikov Congress, a global conference on chemistry. Both the medal and the conference are named after famed 19th-century Russian chemist Vladimir Vasilyevich Markovnikov in honor of his contributions to structural theory in organic chemistry.
For Alabugin, the Markovnikov Medal is especially personal because he earned his bachelor's and master's degrees and doctorate from Moscow State.
The Markovnikov Medal presentation came just a month after Alabugin received an Honorable Professorship from St. Petersburg State University, one of the top and largest universities in Russia. The honor was given Sept. 6, during the opening ceremony of its Mendeleev 2021 International Conference on Chemistry for Young Scientists. Alabugin also gave a plenary lecture on his work at the conference.
"Dmitri Mendeleev, the man who invented the periodic table, was a chemistry professor at St. Petersburg State University. Just being associated with him is an honor," Alabugin said.
Both awards recognize Alabugin's career contributions to the field of organic chemistry: He has authored nearly 200 papers. Research conducted by the Alabugin Group at FSU has largely been focused on understanding the most basic rules of how molecules react and form new chemical bonds, to know fundamentally what molecules are capable of and, based on that knowledge, trying to invent new reactions.
"I think a lot of recent recognition came from the way we redefined rules for making cyclic molecules ­­— a chain of atoms that closes to form a ring. If you look at the molecules present in plants, animals or crude oil, about 90 percent of them have at least one cycle, so being able to build those structures with precision and control is essential," Alabugin said.
Geoffrey Strouse, chair of the FSU Department of Chemistry and Biochemistry, said the awards illustrate the effect that Alabugin's work is having at home and abroad.
"This is clear evidence of the impact that a faculty member, who made his career at Florida State University, is having on the rest of the world." Strouse said. "Because a rising tide lifts all boats, these enhance the respect that others have for FSU, our department and for the undergraduate and graduate students that come from this program."
These honors follow Alabugin's 2020 win of the American Chemical Society's Arthur C. Cope Scholar Award, one of the most prestigious awards in organic chemistry. The list of Cope honorees includes five Nobel Laureates.
Alabugin is also beloved on campus for his prowess as a teacher and mentor, Strouse said. He was the first FSU faculty member to be awarded all three FSU Undergraduate Awards — Teaching, Advising and Research Mentor.