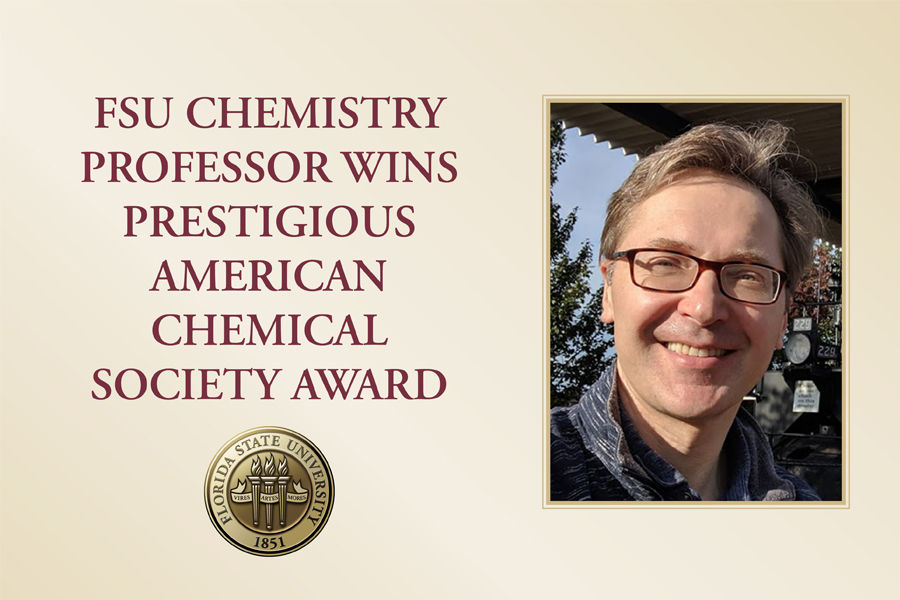 A Florida State University faculty member has become the first in the university's history to receive the American Chemical Society's Arthur C. Cope Scholar Award, one of the most prestigious awards in organic chemistry.
Igor Alabugin, a professor at FSU's Department of Chemistry and Biochemistry in the College of Arts and Sciences, was selected for the 2021 edition of the international award for excellence in organic chemistry. Alabugin has been with FSU since 2000 and specializes in organic synthesis and catalysis, computational chemistry, nanoscience and photochemistry.
"What makes this award special is that it is the first one in the history of FSU, somewhere I have been for the duration of my independent career," Alabugin said. "This is also a recognition of a very strong organic chemistry tradition at FSU."
Alabugin's list of accolades is extensive: He has won a Fulbright Scholar Award, been named a Fellow of the American Association for the Advancement of Science and was the first FSU faculty member to be awarded all three FSU Undergraduate Awards — Teaching, Advising and Research Mentor. He has published a book and more than 170 papers, has presented at approximately 300 invited lectures at universities, industries and conferences, and he currently holds 16 patents.
The Arthur C. Cope Scholar Awards were established in 1984 by the ACS Board of Directors under the terms of the will of Cope, an accomplished organic chemist and member of the National Academy of Sciences. Only 10 scholars are selected by the ACS worldwide each year to receive the award, which consists of a $5,000 prize and a $40,000 unrestricted research grant. Recipients also deliver an address at the Arthur C. Cope Symposium.
Alabugin first learned of the award's existence as a student at Russia's Moscow State University in the early 1990s.
"I remember looking at the list of awardees with awe, as it included many of my scientific heroes," he said. "The list of former honorees includes five Nobel Laureates, the most recent of whom, Ben L. Feringa, received the Arthur C. Cope Scholar Award just one year before receiving a Nobel Prize. It was hard to even imagine then that I would earn one of these coveted awards a couple decades later."
Geoffrey Strouse, chair for the FSU Department of Chemistry and Biochemistry, said the international awards underscore the high-caliber faculty and graduates of the department and uphold the university's stellar reputation on a world stage.
"For my group, chemistry is the true frontier of scientific discovery," Alabugin said. "The chemical universe is immense and mostly still undiscovered, and new technologies depend on organic chemists who can design and discover molecules with the right properties, often inventing chemical reactions that never existed before. Our group's research is the combination of fundamental insights — often computational and theoretical in nature — with practical organic chemistry, including the development of new reactions and building new molecules."
In addition to Alabugin's Arthur C. Cope Scholar Award, the ACS also selected FSU alumnus Kerry Gilmore and two of Gilmore's former colleagues from the Max Planck Institute of Colloids and Interfaces in Potsdam, Germany, to receive the ACS Award for Affordable Green Chemistry. The award recognizes outstanding scientific discoveries that lay the foundation for environmentally friendly products or manufacturing processes at a cost comparable to current technologies. Gilmore, who recently accepted an assistant professorship with the University of Connecticut, is one of Alabugin's former Ph.D. students.
"I am very lucky to have mentored students who will make a difference in the world," Alabugin said. "Kerry is one such student. His doctoral work led to a fundamental discovery that literally rewrote the textbooks. Seeing Kerry become the leader in a field of green chemistry makes me proud and optimistic for the future of the chemical profession."
Gilmore praised Alabugin as a fantastic mentor who provided him with a strong intellectual foundation for his career and transformed the way he thinks about and approaches scientific endeavors.
"To have been honored alongside Igor, it simply shows the impact he has had and continues to have on science," Gimore said. "He advances chemistry both through his own work as well through those he has trained. Florida State was an excellent choice for graduate school, providing me with the resources, training and environment I needed to be successful. I feel very lucky to be a former ChemiNole, and the quality of the program is exemplified by Igor's Arthur Cope award."