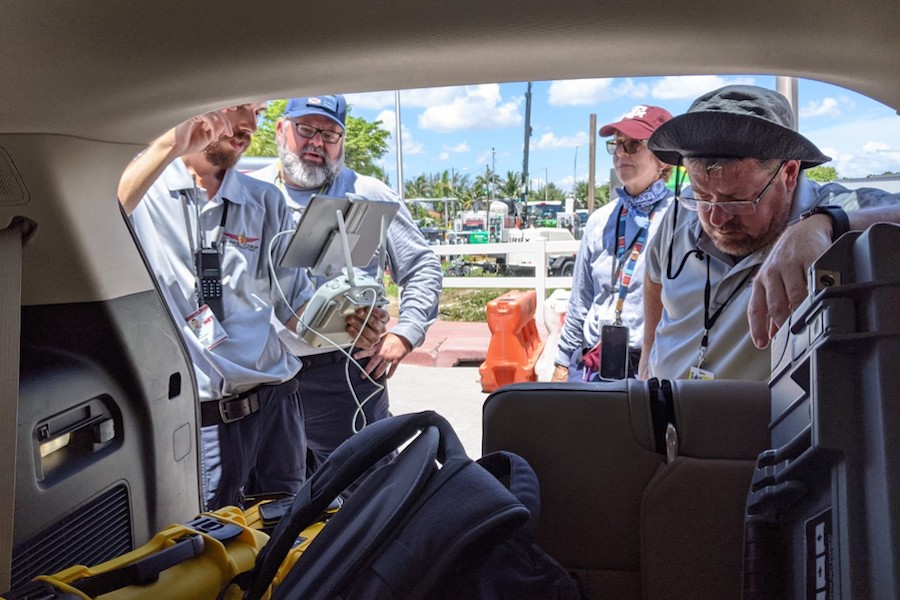 A team from the Florida State University Center for Disaster Risk Policy (CDRP) is assisting with assessment and recovery efforts at the Champlain Towers South condominium in Surfside, which collapsed June 24.

The State of Florida Urban Search and Rescue Task Force (FL-TF1) requested the help of CDRP's unmanned aircraft systems (UAS) team which has the ability to rapidly deliver incident maps to urban search and rescue teams through the use of UAS, or drones.
In less than 30 minutes, the team can fly, process and upload the latest information from a disaster scene. This improves responder effectiveness and increases responder safety. 
"Digital maps are not new, but the speed of creation and the ease of use in dedicated USAR apps is a recent development," said CDRP Director David Merrick. "We worked in conjunction with FEMA's Urban Search and Rescue program to leverage commercial, off-the-shelf software to quickly capture, process and create these data maps."
The team, which deployed June 25 to Surfside, includes Merrick, researcher and geography doctoral student Austin Bush and CDRP researchers Justin Adams and Rayne Hawkins.  
Since arriving on the scene, the CDRP UAS team, working closely with other drone teams from state and local agencies, has flown more than 200 missions, captured more than 28,000 images of the site and created almost 700GB of data and information, including digital maps that could then be downloaded to the phone or tablet of a FEMA Urban Search and Rescue (USAR) program member.
This near real-time intelligence was intended to be a game-changer for hurricane response, but the Champlain Towers collapse provided a tragic test case for the new process. 
The new development gives disaster response teams the ability to work off the latest data rather than being dependent on maps that are weeks or months old. This "disaster intelligence" can mean the difference between success and failure. 
CDRP has previously brought their expertise to bear on responses to natural disasters, including Hurricane Harvey in Texas in August 2017 and Hurricane Michael on the Florida Panhandle in October 2018. 
In 2017, the CDRP's Emergency Management and Homeland Security program was awarded its first National Science Foundation (NSF) RAPID grant for collaborative research with Texas A&M University's Robot-Assisted Search and Rescue team to process and catalog media collected during their deployments for hurricanes Harvey and Irma.
RAPID grants are provided by the NSF to fund rapid response research on the impact of federal investments in science and technology programs and to advance the scientific understanding of science policy. FSU CDRP is collaborating with Texas A&M again on a RAPID grant that will provide more knowledge of how data can be created and utilized by first responders.  
"Further research like this will allow for cost-effective and useful digital tools after a disaster," Merrick said.
FSU CDRP is housed within the Askew School in the university's College of Social Sciences and Public Policy.
For more information, visit http://cdrp.net.