Florida State University's Emergency Management division and Information Technology Services have been recognized for their work on security projects and initiatives that demonstrate outstanding business value and thought leadership.
FSU is one of two universities nationwide to receive the CSO50 award, a recognition by cybersecurity publishing company CSO.
For the past several years, FSU has been focused on establishing and meeting strategic goals designed to preserve and improve the university's position as a leading higher education and research institution. Part of this plan includes the development of Seminole Secure, a four-part program designed to improve disaster preparedness and response at FSU.
The FSU Emergency Management division and the Information Technology Services (ITS) department developed Seminole Secure, an application that university units can use to build a business impact analysis and IT disaster recovery plan, perform periodic risk assessments and maintain a continuity of operations plan (COOP).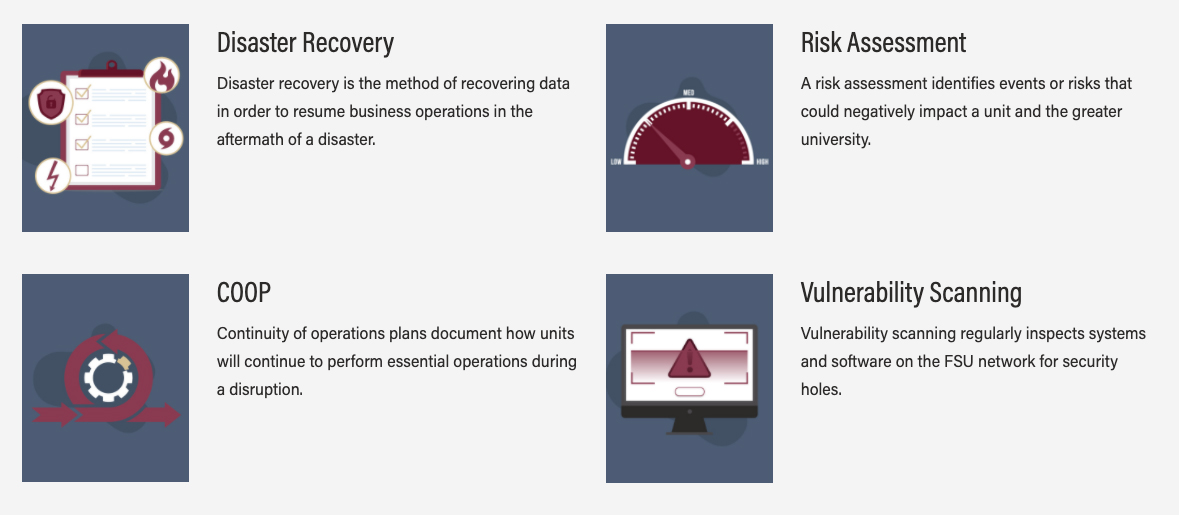 "I am proud of the partnership that has formed between our two offices," said Curt Sommerhoff, director of the Emergency Management division. "Seminole Secure is one more resource in our disaster toolbox that allows us to integrate plans, stabilize campus lifelines and restore services."
Seminole Secure is designed to ensure that necessary contingency plans are in place to support the needs of the entire university in the event of a major disaster or disruption to university operations.
While the type of disaster may vary, the end goal is always the same — to enable essential university business functions and services to continue to support the needs of the FSU community.
The Seminole Secure team identified 54 university units providing vital services that would potentially need to remain available during a major disaster or extended disruption to normal university operations.
The units were identified based on the collaborative efforts of the Information Security and Privacy Office and the FSU Emergency Management (EM) department.
"We view the collaborative approach we have established for working with university units, the support of FSU leadership, and our partnership with FSU Emergency Management as critical success factors — required to ensure necessary capabilities are in place," said Joseph Brigham, program director in the Information Security and Privacy Office.
The CSO50 Awards are scored according to a uniform set of criteria by a panel of judges that includes security leaders, industry experts and academics. The 2021 awards will be presented at the CSO50 Conference + Awards.
"Our annual CSO50 Awards recognize security teams that bring innovation and thought leadership to solving for the many risks their organizations continue to face," said Amy Bennett, executive editor of CSO. "This year's class of CSO50 winners represent an elite group of risk and security thought leaders, and we are pleased to give them the recognition they deserve."
In addition to Sommerhoff and Brigham, contributors to this project include Bill Hunkapiller, chief information security officer in the Information Technology Services; Katelyn White, planning manager of Emergency Management; former Chief Information Officer Jane Livingston; Rebekah Dorn, director of Change Leadership and Planning.
For more information, visit https://its.fsu.edu/seminole-secure.