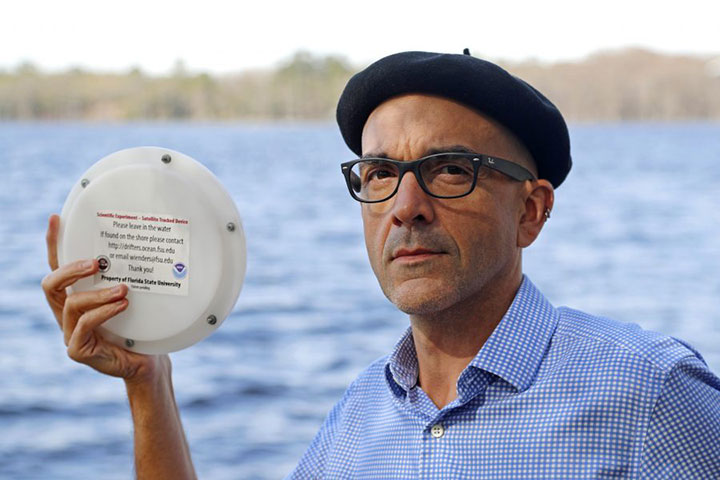 A Canada-based company has licensed technology created by a Florida State University researcher that can monitor ocean surface currents and assist with operational responses to oil spills, marine pollution, weather forecasting and search and rescue operations.  
The technology, called Stokes drifters, was developed by Associate Research Scientist Nico Wienders and licensed to MetOcean, a company based in Nova Scotia, Canada, that manufactures state-of-the-art data acquisition products.  
"The development partnership with Florida State University was invaluable," said Tony Chedrawy, MetOcean Telematics President and CEO.  "A group of true professionals who were committed and key contributors to the overall success of the project.  The stokes is a complementary addition to our suite of drifters and Iridium based products." 
 Ocean currents play an important role for many everyday activities such as shipping, commercial fishing and recreational boating. They also affect our climate, sediment transport, ocean ecosystems and animal migrations. 
The drifters are able to communicate a lot of data about the ocean.  
Wienders began developing the technology a few years ago. Though there are other oceanic drifters, his technology was the first to be able to measure the current at the surface of the ocean, meaning the first 1-2 inches. Historically, other similar instruments had been designed with long hulls to prevent capsizing and long antennae to improve communications.  
Wienders' research showed that long antennae were not necessary to communicate efficiently with satellites and capsizing could be permitted and even be recorded to better monitor wave activity and sea conditions.  
"I was walking on campus one day I remember and suddenly found a solution to allow my drifters to capsize," Wienders said. "That really was a keystone moment. Suddenly, I could make a design that was very small and thin. Suddenly, I could finally create a way to properly measure the Stokes Drift, which had never been done, while minimizing windage. Suddenly I could also monitor the wave activity, via the integrated accelerometer and by just counting the number of flips the drifter was doing." 
Wienders' work was aided by funding from the GAP program operated by FSU's Office of Commercialization. The program provides short-term funding from the Office of the Vice President for Research for projects that show potential in the commercial market.  
"This is exactly what we like to see from our GAP recipients in terms of moving a project along from an idea to a technology that is patentable to ultimately a product that a company can use," said Vice President for Research Gary K. Ostrander. "We are happy to see Dr. Wienders' work flourish and be recognized by the people at MetOcean."