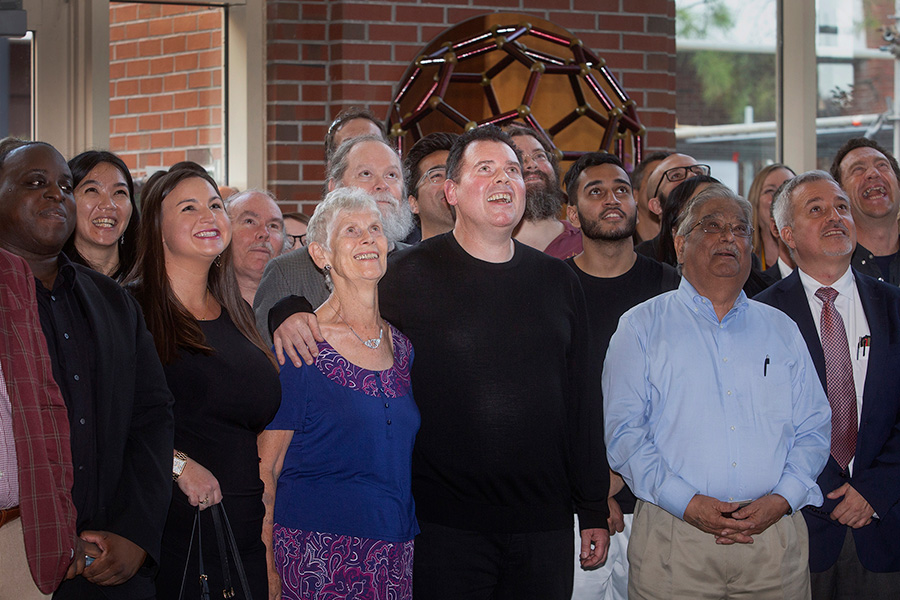 Family, friends and former colleagues of the late Professor Sir Harold Kroto honored the Nobel Laureate's memory by dedicating the auditorium of the FSU Chemical Sciences Laboratory in his honor Oct. 4.
The auditorium dedication came at the end of the first day of a two-day symposium honoring Kroto's work.
"He was a gentleman, a scholar and a true friend to me, as well as this university — I miss him so much," said Provost Sally McRorie. "And I am so pleased that I could be here today as we dedicate the auditorium of the Chemical Sciences Laboratory in his honor."
Kroto — a world class chemist, teacher, mentor and sometimes graphic designer — joined the FSU faculty in 2004, capping off a brilliant career that included the 1996 Nobel Prize in Chemistry for the discovery of the Buckminsterfullerene molecule.
He died in 2016 at the age of 76.
Shortly after Kroto passed, Associate Dean of the College of Arts and Sciences Tim Logan and Dean of the Graduate School Mark Riley began advocating for holding an event to honor Kroto. The end result was a two-day event that included scientists both from around the United States and the United Kingdom, as well as Kroto's wife, Margaret, and son, Stephen.
"Harry was simply an extraordinary human being," Riley said. "He left an incredible legacy of scientific discovery and science education that we wanted to honor through this event."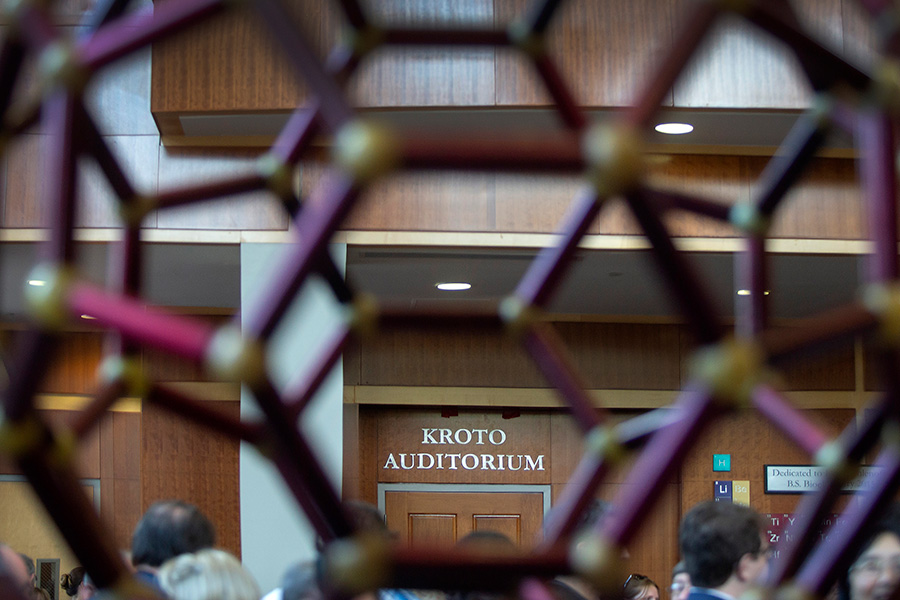 During his time at Florida State, Kroto conducted many public education workshops to teach children about buckyballs, while also mentoring undergraduate and graduate students. He also conducted an annual lecture series called "Opening Minds" to help spur creativity and scientific experimentation within the university and surrounding community.
Sam Huckaba, dean of the College of Arts and Sciences, said it was incredible to watch Kroto so deftly give a public lecture.
"He made the audience work," Huckaba said. "He engaged their curiosity, and he did this covering a staggering array of topics."
In addition to naming the auditorium after Kroto, the Department of Chemistry and Biochemistry installed an art installation in the building's lobby — a sculpture of a buckyball. Both the buckyball and the name plate for the auditorium were designed by FSU's Master Craftsman Studio.
Margaret Kroto told the crowd how much her late husband would have loved to be at the event, even though they were wary of moving to Florida initially. Both she and her husband ultimately loved FSU though, she said and was reminded of this as she and her son drove through the city yesterday.
"It felt like coming home," she said.