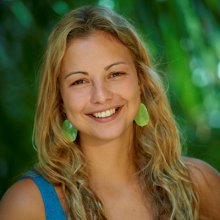 A Florida State University faculty member has been awarded a prestigious national fellowship, recognizing early career researchers who demonstrate exceptional leadership and promise for contributions to the fields of offshore energy system safety, community health or environmental stewardship.
Mariana Fuentes, an assistant professor in the Department of Earth, Ocean and Atmospheric Science, recently received the Gulf Research Program's Early Career Research Fellowship from the National Academies of Sciences, Engineering and Medicine, or NASEM, recognizing her work with marine megafauna. Fuentes' research aims to advance the conservation and management of marine animals, specifically sea turtles, as well as dolphins and sharks.
The Gulf Research Program, established by NASEM, is dedicated to catalyzing advances in science, practice and capacity to generate long-term benefits for the Gulf of Mexico region and the nation as a whole. The fellowship is awarded to emerging scientific leaders as they take on new research, pursue unique collaborations and build a network of colleagues working to improve the resilience of coastal communities and ecosystems. Each of the 20 selected fellows receives a two-year grant to fund research expenses and professional development.
"On a personal level, I am extremely honored to receive this prestigious fellowship," Fuentes said. "It recognizes the interdisciplinary and applied research that I have been conducting in the Gulf and the benefits to ecosystems' health."
Fuentes' expertise is in integrating field-based ecology with systematic conservation planning, decision-theory approaches, climate modeling and applied qualitative and geographic spatial analysis. She uses these tools to explore how marine wildlife interact with environmental processes and how they are impacted by current and future threats.
"This fellowship allows me to take risks on research ideas not yet tested," Fuentes said. "I hope to advance the understanding of ecosystem processes and dynamics to facilitate the sustainable use of natural resources in the Gulf of Mexico."
Jeffrey Chanton, the Lawton Distinguished Professor of Oceanography at FSU, said Fuentes is one of the department's most successful young faculty members and someone who is instrumental in bringing young people into the field and growing their appreciation and understanding of the importance of marine conservation.
"The Gulf of Mexico is undoubtedly the most economically important marine province to the United States of America," he said. "Yet this critical marine basin has been understudied for decades. The Gulf Research Program enhances scientific inquiry along our shoreline and at sea, and it allows us to better understand and preserve the incredible natural abundance and diversity of this critically important ecosystem."
Chanton, a Gulf Coast native who was among the first scientists to study the effects of the Deepwater Horizon oil spill on the region, penned a letter of support during Fuentes' fellowship application process.
"Many species in the Gulf are under tremendous pressure due to the encroachment of human activity on their habitats," he said. "Mariana's work leads to better and more effective approaches to conservation of these animals." 
Before joining the FSU faculty in 2015, Fuentes earned her doctoral degree in environmental sciences and marine biology from Australia's James Cook University. Previously, Fuentes was selected for a Super Science Postdoctoral Fellowship at the Australian Research Council Centre of Excellence for Coral Reef Studies, where she used an interdisciplinary approach to advance marine species conservation planning. Her work has been recognized by the Australian Institute of Policy and Science, and she was also a recipient of the institute's Queensland Young Tall Poppy Science Award in 2011.
To learn more about Fuentes' work, visit her research group online. Additional information about NASEM and the Gulf Research Program, is available at nationalacademies.org/gulf/index.html.