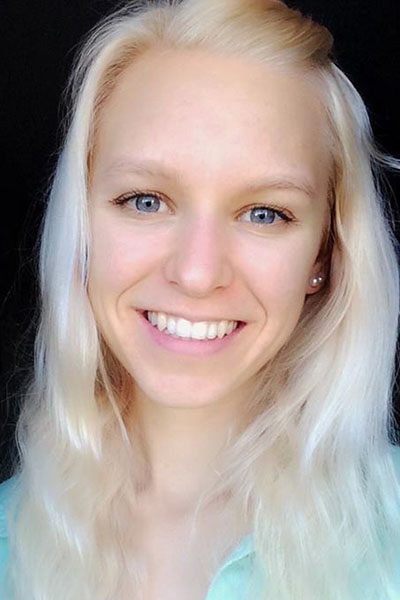 A doctoral student in Florida State University's Department of Chemistry and Biochemistry has received a major fellowship from the U.S. Department of Energy to continue her research into newer, safer forms of nuclear energy.
Bonnie Klamm will receive $155,000 over three years from the DOE's Nuclear Energy University Program to support her research as she completes her doctorate in inorganic chemistry. A native of Clinton, Washington, Klamm works under the supervision of Thomas Albrecht-Schmitt, FSU's Gregory R. Choppin Professor of Chemistry and director of the Center for Actinide Science & Technology.
"Bonnie's fellowship is a tremendous accomplishment," Albrecht-Schmitt said. "It will support research into understanding the chemical forms that plutonium and americium adopt in molten salts that will be used as both fuel and coolant in Generation IV nuclear reactors, which are currently being developed."
Klamm is spending her summer conducting research at Los Alamos National Laboratory in New Mexico after winning another prestigious award — a Seaborg Institute Summer Research Fellowship.
"I was shocked and honored to learn that not only did I receive the Seaborg but the Nuclear Energy University Program fellowship as well," she said. "These will allow me to explore other areas and learn different techniques in actinide/nuclear research, as well as collaborate with others in our field."
In addition to her fellowships, Klamm was one of three FSU doctoral students from the chemistry and biochemistry department to win 2019 Innovations in Nuclear Technology R&D Awards from the Nuclear Energy University Program. She, Alexander Chemey and David Dan will each receive cash awards and travel reimbursements to attend upcoming conferences.
The three students and their award-winning research are as follows:
Chemey, a native of Uniondale, Indiana, is pursuing a doctorate in nuclear chemistry. His award-winning research paper, "Electronic, Magnetic and Theoretical Characterization of (NH4)4UF8, A Simple Ionic Molecular Uranium(IV) Fluoride," was published in the journal Inorganic Chemistry.
"The Innovations award is a great honor, and a strong endorsement of the nuclear and radiochemistry programs at Florida State," he said.
Dan, a native of Bowie, Maryland, is pursuing his doctorate in inorganic chemistry. His award-winning paper, "Origin of Selectivity of a Triazinyl Ligand for Americium(III) over Neodymium(III)," was published in Chemistry — A European Journal.
Dan said he credits his success so far in his scientific career to his faith and a supportive team that includes his family, friends, lab partners and members of the chemistry department.
Klamm's award-winning paper, "Experimental and Theoretical Comparison of Transition-Metal and Actinide Tetravalent Schiff-Base Coordination Complexes," was published in the journal Inorganic Chemistry.
"It is unique to be able to work with several different isotopes relevant to nuclear technology in a university setting," she said of her research at FSU. "I feel very lucky and honored to be able to work in the Albrecht-Schmitt Research Group, and even more so to be awarded for my work and accomplishments."
While the students' papers are highly technical in nature, Albrecht-Schmitt noted that they all focused on radioactive elements associated with nuclear technology during the Cold War.
"These students are studying the fundamental chemistry of radioactive elements like uranium, plutonium and americium, with the common goal of using this basic knowledge to solve long-standing problems associated with mitigating the nuclear legacy of the Cold War," he said. "Specifically, they are creating chemical systems that selectively capture targeted elements like plutonium when they are present in a sea of other benign elements."
The Center for Actinide Science & Technology is dedicated to many facets of nuclear science, including developing materials that trap radioactive forms of elements, or radionuclides; selectively removing specific radionuclides that represent energy resources from nuclear waste; and, most importantly, training the next generation of nuclear chemists and physicists.