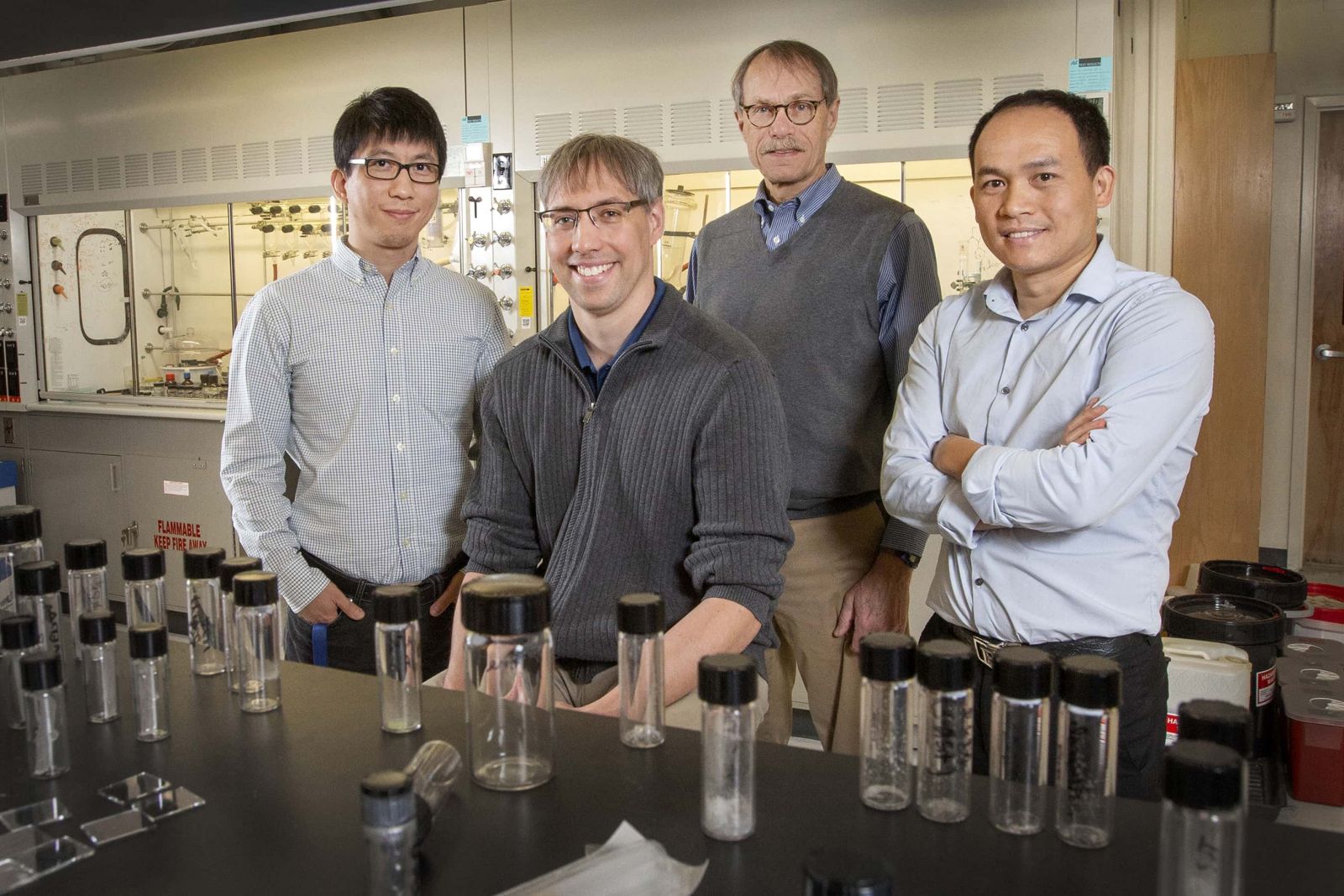 Three Energy and Materials Researchers Reflect on Their Remarkable Early-Career Accomplishments at FSU
Florida State University researchers Biwu Ma, Kenneth Hanson and Hanwei Gao have a few things in common. Several things, actually.
All three are international leaders in the fields of energy and materials research. They were all recruited by Florida State as part of a strategic cluster hiring program in 2013. They've co-authored countless studies together and have scarcely stopped collaborating since arriving at the university. They've cohabitated the same labs, teamed up on winning grant proposals and enjoyed years of shared professional experiences.
Now, three quarters of the way through their sixth year at FSU — and with millions of grant dollars, more than 100 peer-reviewed publications, thousands of citations and a growing list of patents under their belt — the three researchers said they have one more thing in common: an appreciation for the role FSU has played in their early-career success.
"None of this would've happened if we didn't have the support of the university," said Ma, an associate professor in the Department of Chemistry and Biochemistry.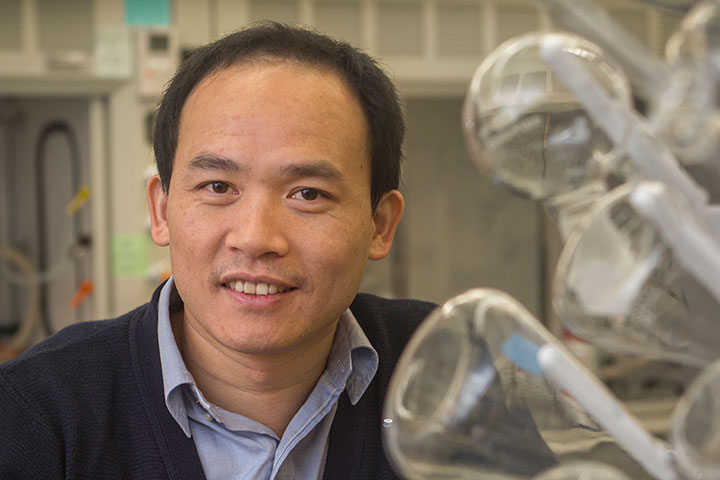 A Unique Hiring Process
Ma, Hanson and Gao, who all held postdoctoral and research staff positions at prestigious research institutions before being hired by FSU, arrived in Tallahassee as part of the university's strategic faculty hiring initiative in energy and materials — an interdepartmental effort to attract and support promising young scientists working under the broad umbrella of energy and materials research.
Spearheaded by FSU Associate Vice President for Research Ross Ellington, the initiative aimed to augment the ranks of FSU faculty members conducting research across disciplines in areas including energy production, conversion, storage and utilization.
The allure of a strategic initiative designed specifically to assemble and service talented interdisciplinary researchers for a common purpose turned the heads of the then-prospective faculty members.
"For me, the energy and materials search in itself was a big draw," said Hanson, an inorganic chemist who was a postdoctoral researcher at the University of North Carolina at Chapel Hill before arriving at FSU. "It was a recognition by the departments and the university that materials- and energy-related research are a strength of FSU. That was amazing to see."
"Cluster hiring might not be right for all the fields, but I think for materials studies you need expertise from all different aspects," added Gao, a physicist who arrived at FSU from the University of California, Berkeley.
Steadfast Support and Mentorship
But equally important to the forward-looking recruitment initiative, the researchers said, was the personal touch and attentiveness demonstrated by administrators and faculty members throughout the hiring process.
This was especially true of Ellington, who was the principal point of contact for all three researchers throughout their transition to FSU. When they arrived on campus as new faculty members, Ellington continued to take particular interest in their professional development and their personal well-being.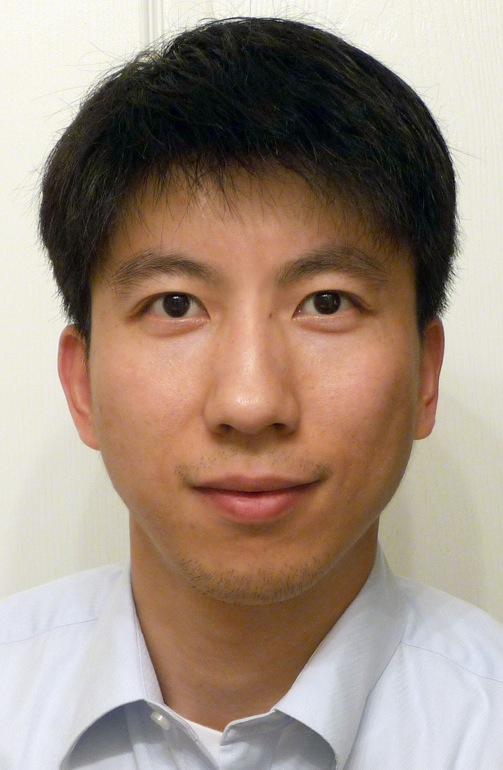 "After I made the decision to come over, Ross would come to my office regularly to check in on me," said Ma, formerly of the Lawrence Berkeley National Laboratory. "He put forth a lot of effort providing us the help we needed."
Gao said he often marveled at the lengths Ellington would go to serve as a resource and a mentor.
"It's always surprising to me how much effort he puts into personal relationships," he said. "Ross would visit my office, review and even edit my proposals. He did everything he could to walk me through those processes. I can't imagine anyone else who could do things at that level of detail. I couldn't appreciate it more."
Ellington, whose service to Florida State spans multiple decades, is set to retire from his position this summer. As he prepares to depart, he said his legacy will be largely defined by the human connections he's forged throughout his long and successful tenure.
"After 40 years as faculty member, 15 of those as a reasonably senior administrator, it is totally clear to me that what really matters are the lives of people that you touch," he said. "I take great pride in my involvement in the faculty hiring efforts. These folks will have a lasting impact on the university, well beyond my days as an administrator."
An Environment Built for Success
When the researchers arrived and, thanks in large part to Ellington, settled on campus, they were met with a university environment that defied their expectations in many important ways.
"Based on my interactions with assistant professors at other universities, I was under the impression that it was a sink or swim scenario when you arrived as a junior faculty member," Hanson said. "But it wasn't that way at all."
Instead, the researchers said they encountered an atmosphere founded on support and collegiality. Departments and administrators were not only hoping for their success, but were working conscientiously to make that success a reality. The university showed its commitment to the new faculty members by outfitting them with state-of-the-art equipment and laboratory space to make sure they were well-positioned to conduct research on the vanguard of their respective fields.
"That put us in a position where we didn't have to worry much about the facilities or resources," Ma said. "With the facilities, the people and the strong support at the beginning, the good science happened naturally for us."
And that good science, it turned out, placed the researchers firmly on the path to national and international prominence.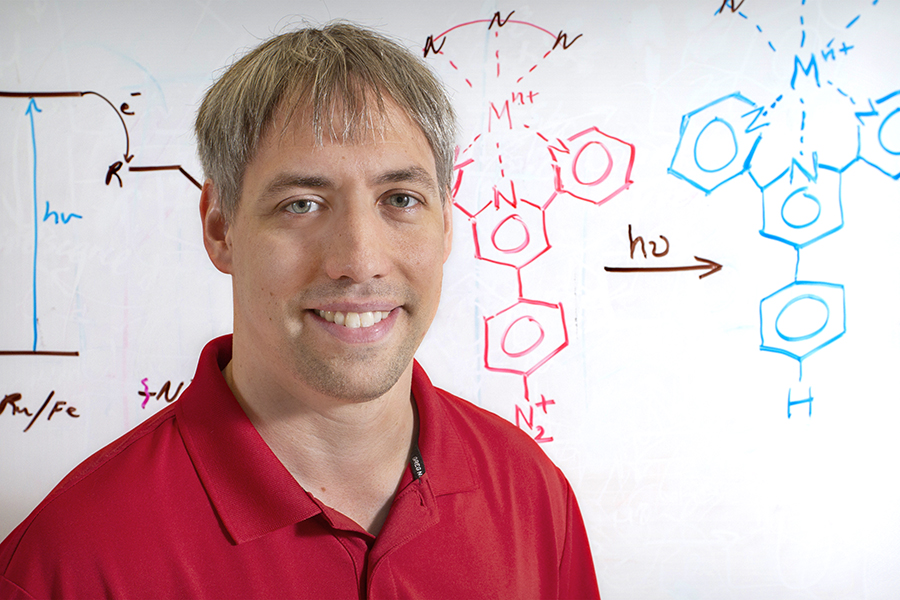 A Half-Decade of Highlights
In the years following their arrival, their work exploring and developing leading-edge solutions to the problems of solar energy, energy storage, next-generation light emitting devices, optoelectronics and more garnered a litany of awards, resulted in a panoply of significant breakthroughs and allowed the researchers to establish themselves as leaders in the fields of energy and materials science.
Hanson's work pushing the theoretical limits of solar cell efficiencies, for example, earned him a prestigious National Science Foundation CAREER Award in 2018, and collaborations between Gao and Ma on a class of sophisticated materials called halide perovskites have unlocked new prospects for a future of advanced, low-cost and high-powered technologies that convert light to energy and vice-versa.
That's not to mention the vast portfolio of additional research projects the three scientists oversee, or the legions of successful students they've trained and mentored along the way.
Geoffrey Strouse, chair of the Department of Chemistry and Biochemistry, said Ma and Hanson capitalized on the resources and expertise afforded by the university as they worked to build a foundation for their research, teaching and collaboration.
"They took advantage of the department's historical strength in materials science, instrumental capabilities and high-quality graduate students to become leaders in their fields," he said. "None of this would have happened if Ross didn't step in and help foster the development of this group. We're very pleased with how well they've done."
Horst Wahl, chair of the Department of Physics, praised Gao's tenacious work ethic and bold willingness to take on new and unfamiliar challenges.
"He works hard and is enthusiastic about what he is doing," he said. "He took the risk of embarking on completely new research directions — very different from what he'd done before coming here — and it paid off. He has established himself as a force to be reckoned with in his present field of research, and I expect that he will find new avenues to explore, guided by his drive and his ever-increasing expertise."
The Road Ahead
Looking forward, the researchers see a future brimming with promise and possibilities. They said they hope to build on their first six years at Florida State by leveraging their prolific collaborative networks, competing for larger grants and converting technologies developed in the lab into marketable commercial products.
As they work over the coming years to realize their ambitious goals, the researchers said the dramatic and continued ascension of FSU will be instrumental in their success.
"You want to come to a place that is on the rise, and FSU is on the rise," Ma said. "Florida is the third most populous state in the nation with significant resources for higher education. As one of the preeminent universities in the state, the only thing for FSU to do is to keep going up. You can't find a situation like that in many other places."