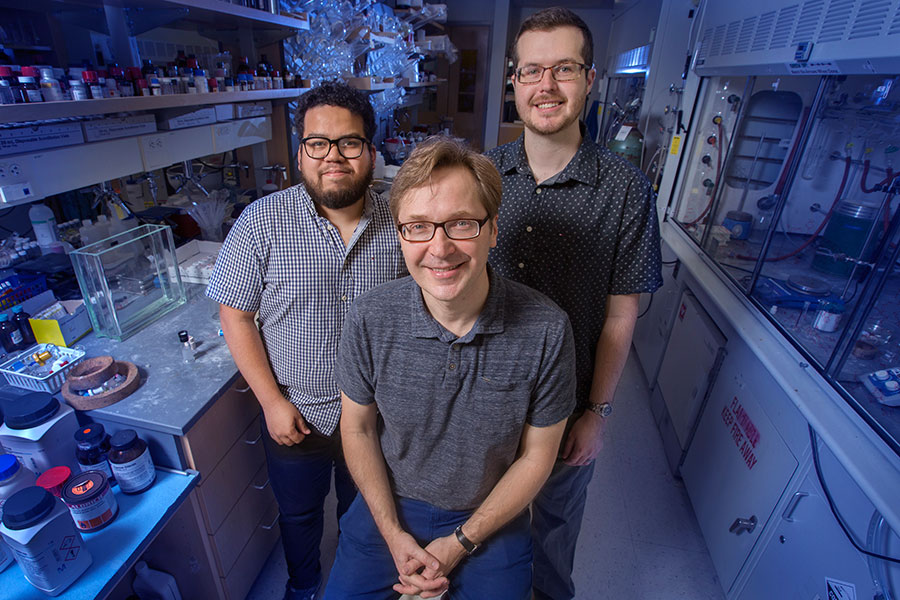 A team of Florida State University scientists is working to make chemical reactions faster and more selective by reinventing fundamental organic chemistry concepts.
Professor of Chemistry Igor Alabugin and doctoral student Trevor Harris developed a new way to control one of the most commonly used reactions used in chemistry today — the alkyne-azide "click" reaction.
Alkynes and azides are two combinations of atoms — or functional groups — that can form a strong connection with each other, what scientists refer to as click reactions. Click reactions can reliably combine groups of atoms, like Lego blocks, into larger more complex and useful molecular structures. This concept applies to a wide range of molecular sciences — from chemistry to biology, from polymer design to drug discovery.
The study was published in the journal Chem, which aims to showcase how exceptional fundamental studies in chemistry help to find potential solutions to the global challenges of tomorrow. Research published in Chem usually aligns with one of the 10 sustainable development goals set by the United Nations.
"We had to start with asking fundamental questions," Alabugin said. "How do we design better reactions?"
Conventionally, in order to help the alkyne and azide molecules to connect, chemists either use a metal catalyst or activate the alkyne by bending this linear functional group.
"The spring-loaded alkyne is like a mouse trap. There is enough energy to force the reaction with the azide without using a metal catalyst," Alabugin said. "That means we could use this reaction inside a biological environment where toxic metals cause complications."
However, bending destabilizes the molecules, making their preparation and storage problematic. Harris and Alabugin discovered a new way to activate these molecules by combining alkyne bending with twisting.
This new molecular design feature activated dormant activating effects of remote substituents and unlocked a new powerful way to make the click reactions faster without extreme bending.
Furthermore, twisting introduced chirality, a special type of molecular asymmetry that is of key importance in biology. By using twisted click reagents, the researcher can transfer chirality to new molecules and materials.
The researchers will collaborate with other scientists to investigate the unique features of "click" chemistry of twisted alkynes. Other researchers on this study are FSU Assistant Professor of Chemistry Kenneth Hanson; National High Magnetic Field Laboratory research faculty Vladislav V. Lobodin; FSU Professor Emeritus Ronald Clark; FSU graduate students Gabriel dos Passos Gomes and Suliman Ayad; and undergraduate Megan Tuscan.
The work was funded by the National Science Foundation.