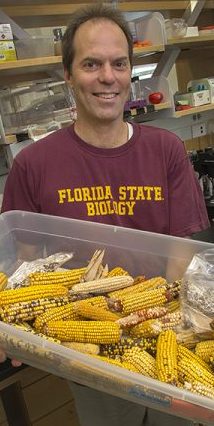 A Florida State University research facility is home to about 100 types of maize, and now, scientists are inviting the public to come explore this living museum.
At the FSU Biological Science Research Facility, visitors can take a self-guided tour through the fields to view the many mutants growing there. You can find 6-inch dwarf plants, zebra-striped plants, lesion mimics, as well as lazy mutants that lie on the ground instead of growing upward. Placards will explain the different types of maize and their functions.
The facility is used by Professor of Biological Science Hank Bass and others who are characterizing the maize genome as part of a larger National Science Foundation project on plant genome research.  The public event, hosted by Bass and Florida A&M University Professor of Agricultural Sciences Kome Onokpise, will showcase some famous and classical maize mutants that have been studied and used by genetics researchers and breeders for many decades.
The event takes place from 9 a.m. to 2 p.m., Saturday, June 24 at the Biological Science Research Facility at 2606 Mission Road in Tallahassee.