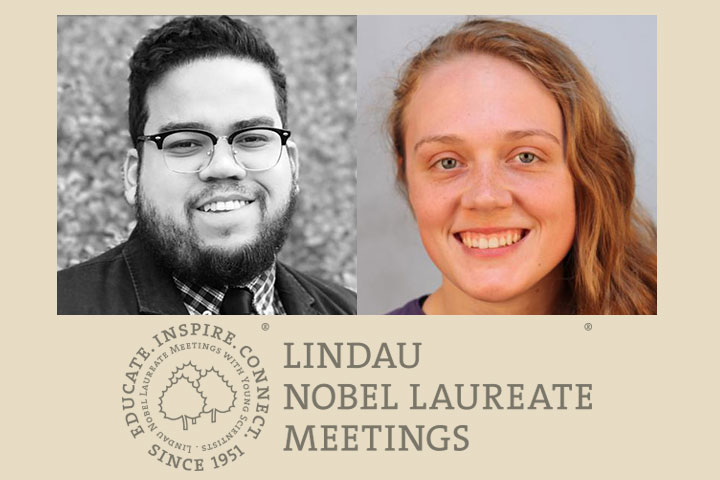 Two Florida State University graduate students are among 400 student-scientists worldwide invited to attend the 67th Lindau Nobel Laureate Meeting, an annual meeting that includes 30 Nobel laureates.
This year, chemistry graduate student Gabriel Dos Passos and FAMU-FSU College of Engineering graduate student Margaret Scheiner will represent FSU at the meeting and hear from some of the most profound scientists in the world.
"Attending the Lindau Meeting is a wonderful opportunity for a young scientist," said FAMU-FSU College of Engineering Professor Okenwa Okoli, who is Scheiner's adviser. "And it's a once-in-a-lifetime opportunity, aside from winning a Nobel Prize."
Once per year, Nobel Laureates meet in Lindau, Germany to help mold the next generation of scientists. The meetings focus alternately on physiology/medicine, chemistry and physics. A separate meeting for economics is held every three years.
Dos Passos, who works in the lab of Professor of Chemistry Igor Alabugin and is focusing on computational organic chemistry, said when he first heard about the meeting as an undergraduate student in Brazil, the idea of spending a week with giants in the field seemed impossible.
"It's a little bit crazy," he said. "It's one of the things that I have always wanted to do. I don't really know how to explain. It really is talking to all these rock stars of chemistry. You're in the same place as all of them for a week, learning from them. It's humbling, too. I'm really nervous, but very excited. It's a definite dream come true."
Scheiner, a fourth-year doctoral student in the Department of Industrial and Manufacturing Engineering, echoed Okoli's comments that it was a "once-in-a-lifetime opportunity."
"By attending the meeting, I have an opportunity to speak to brilliant researchers from around the world," said Scheiner, who is originally from Massachusetts. "While our research fields may not directly overlap, I hope to gain insight from their experiences. I may be able to learn about recent developments in chemistry or new techniques I could introduce to my research group. It's also a great opportunity to network and possibly find people with similar research interests, which could lead to an interagency/institution collaborative research project."
The 2017 meeting takes place from June 25-30.