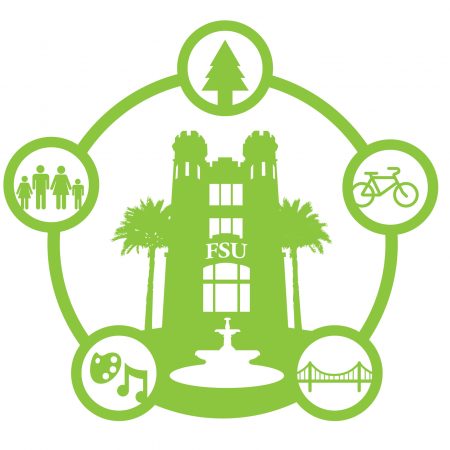 When most people think of Earth Month they think of recycling bottles and choosing paper over plastic. But these activities are just a small piece of the puzzle of humanity's long-term existence on Earth, a puzzle that Florida State University researchers are helping to solve.
"Sustainability means different things to different people, but at the end of the day we all recognize that it is about protecting our future on this planet," said Elizabeth Swiman, director of campus sustainability at FSU. "To really do that we need to always be thinking one step ahead of our current needs. That is exactly what many of our researchers are currently doing as they pursue new sustainability-related technology and advance our understanding of the environment and our impact on it." 
In celebration of Earth Month, FSU is shining a spotlight on 10 of the university's many sustainability-related research projects.
Tarek Abichou – Florida A&M University – Florida State University College of Engineering
Abichou concentrates on innovative solid waste management practices with the goal of leaving future generations with a more sustainable and manageable solid waste system. His research on mitigating methane emissions from landfills has set the bar for national and international solid waste research. He has also published papers on bio-reactive cover layers in landfills, a new and more sustainable design practice that recirculates water and makes trash biodegrade faster.
Jeff Chanton – Department of Earth, Ocean and Atmospheric Science
Chanton primarily focuses his research on three areas: reducing greenhouse gas emissions through better landfill design, examining the effects of permafrost thaw and peat soil formation on carbon dioxide and methane, and investigating the effects of the BP oil spill on the ocean sea floor.
Christopher Coutts – Department of Urban & Regional Planning
Coutts' research examines green infrastructure and the negative implications that can arise when it is tampered with. He defines green infrastructure as two interconnected systems of conserved lands and elements of the natural environment that we should strive to protect. His field has become much broader than in past years, when green infrastructure simply related to how best to manage storm runoff.
Richard Feiock – School of Public Administration and Policy
Feiock studies the intersection of city governance and sustainability concerns. His research concentrates on how cities can work collaboratively to address environmental issues that will impact not only their local community but also the global environment.He is involved in multiple sustainability-related projects, such as his work with the Florida Department of Environmental Protection to study local recycling policies and their efficiency.
Denise von Glahn – School of Music
Von Glahn studies the convergence between music and larger social and cultural factors. She is at the forefront of the ecomusicology movement — a multidisciplinary field that examines the merging of music, culture and nature — and considers the role of the natural environment in the context of music. Her research and recent writings cover this fusion, exploring the natural environment as well as women composers in nature.
Lydia Hanks – Dedman School of Hospitality
Hanks' research looks at how the tourism and hospitality industries can help or hinder sustainability and how hospitality professionals can merge sustainability and profit into a win-win model. She is also co-writing a study examining how restaurants use sustainability messaging such as advertising their use of organic or local foods and how customers accept and interpret these claims.
Mark Horner – Department of Geography
Horner looks at the way transportation systems affect each of us in our daily lives, including the impact of transportation on sustainability. His research focuses on the social sustainability of transportation systems, looking at whether they offer equal opportunity to members of a community and how well these systems serve us. An ongoing project of his examines the commuting patterns of city dwellers, uncovering who may be disadvantaged by our transportation systems and how resources are deployed.
Laura Keller – Department of Biological Science
Keller's sustainability research examines how organisms respond to environmental conditions and external cues at the cellular level. Keller also stresses that certain diseases and conditions are due to genetics as well as human-caused factors and lifestyle choices.
William Landing – Department of Earth, Ocean and Atmospheric Science
Landing's research looks at the role the ocean plays in our global sustainability and how trace elements that phytoplankton need for growth affect our ocean's productivity. His work centers on crafting more accurate and reliable predictions for our global climate system.
Paul Rutkovsky – Department of Art
Rutkovsky is tackling sustainability through the Art Alleys project, which brings FSU together with the greater Tallahassee community by revitalizing blighted urban areas and crafting them into vibrant community spaces. Through the project he helped create an environmentally and socially sustainable alleyway that has become a landmark of the renovated Gaines Street area, acting as an open community space for growing organic vegetables and hosting live music, arts and crafts workshops and film screenings.
To learn more about FSU's sustainability efforts, visit http://sustainablecampus.fsu.edu/.