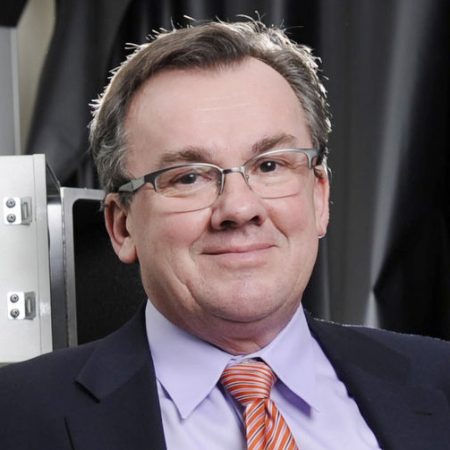 Florida A&M University Provost Marcella David and Florida State University Provost Sally McRorie have named J. Murray Gibson as the new dean of the FAMU-FSU College of Engineering.
Gibson was selected after a national search was conducted in partnership with Greenwood/Asher & Associates Inc. His appointment is effective July 1.
Gibson is the founding dean of Northeastern University's College of Science. While at Northeastern, in collaboration with faculty and staff, Gibson was instrumental in helping the College raise $26 million in philanthropic funds over five years. Gibson also worked with faculty to raise annual research funding by 50 percent and during his tenure the University moved up 25 points in national rankings.
Prior to his role as founding dean, he served as a professor in one of the nation's top 10 engineering schools, the University of Illinois at Urbana-Champaign, where he trained 15 doctoral students.
An internationally recognized materials researcher in nanotechnology, Gibson also worked for 11 years at the renowned Bell Laboratories in Murray Hill, N.J. During his tenure at Bell, Gibson pioneered the use of advanced electron microscopy techniques to understand the structure/property relationships of semiconductor nanostructures.
Over the course of his work as a researcher at some of the nation's leading institutions, Gibson has secured research funding in excess of $100 million as a principal investigator.
According to Maurice Edington, dean of the FAMU College of Science and Technology and chair of the College of Engineering Dean Search Committee, Murray's notable résumé and passion for education made him the model candidate.
"The Committee's top priority was to identify candidates who possess transformational leadership skills," Edington said, noting that the committee was made up of an equal portion of faculty from each university.
He added, "Dr. Gibson has a wealth of administrative and research experience that makes him an ideal choice for this position. The committee was very impressed with his extensive track record on diversity and his strong commitment to advancing the education of minority engineers. Additionally, Dr. Gibson has a long and distinguished record of scholarly achievements in the areas of materials science and engineering. The committee members were all very enthusiastic about his candidacy for this position and we look forward to working with him to move the college forward in the years to come."
David and McRorie underscored their confidence in Gibson's ability to lead the college in advancing its mission in today's higher education landscape.
"Dr. Gibson brings to the College of Engineering the experience and vision needed to move us toward our shared goals of providing an innovative academic program of excellence at both the undergraduate and graduate levels; attracting and graduating a greater number of minorities and women; and attaining national and international recognition for the work of our faculty, staff, and students," David said.
McRorie, added, "Dr. Gibson is an accomplished scientist with a track record of success in higher education administration and the leadership skills to enhance the College of Engineering in every area, from teaching and research to fundraising and enrollment."
A five-time patent holder, Gibson's extensive leadership experience includes formerly directing a billion-dollar, globally recognized scientific user facility at Argonne National Laboratory, which produced two Nobel prizes.
"I am excited by the incredible promise of the unique partnership between FAMU and FSU," said Gibson, who will hold a faculty appointment as a professor of mechanical engineering at FAMU. "At a time when higher education in America is under threat, our two proud universities with powerful alumni, dedicated staff, devoted faculty, eager students, and distinct missions are coming together to invigorate engineering research and education. No other college in the U.S. is better poised to address the chronic shortage of underrepresented engineers."
Gibson, an esteemed researcher and author, has published more than 200 technical papers that together have received more than 17,000 citations. He received his doctoral degree in physics from the University of Cambridge in England and is a fellow of several professional societies, including the American Physical Society and the Royal Microscopical Society. In 2011, he was elected chair of the Physics Section of the American Association for the Advancement of Sciences, where he was also elected a fellow. He also served as a member of the board of directors of the Materials Research Society.
"I look forward to collaborating with stakeholders to frame our strategic plan in my first year, and I expect to raise resources across the nation for the implementation of our unique vision," said an enthusiastic Gibson when asked about his immediate plans as dean.