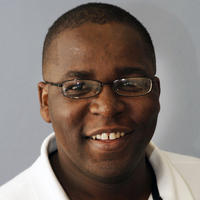 A Florida State University researcher is headed to South Africa on an international fellowship to collaborate with researchers at the University of Johannesburg to help them develop an integrated lab system for university researchers that will better allow faculty to collaborate and innovate.
Claudius Mundoma, director of the Physical Biochemistry Facility for Florida State's Institute of Molecular Biophysics, has received a fellowship from the Carnegie African Diaspora Fellowship Program. Program officials recruit African-born scholars in the U.S. and Canada to travel to African institutions to pursue research collaborations, curriculum development and training opportunities.
This is the second time Mundoma has received the fellowship. His first round of funding in 2014 allowed him to travel to University of Johannesberg for a few weeks to assess the challenges they faced as an institution. He will now return to the university this summer to assist administrators in setting up a centralized system that allows different teams of researchers to purchase and share equipment.
To prepare for this, Mundoma compared challenges and successes at three institutions — Florida State University, University of Johannesburg and the Oregon Health and Science University.
"I wanted to see what's common amongst them," Mundoma said. "I wanted to look at limitations and aspirations for all of their researchers."
Mundoma found that the university basically lacked human capital in terms of people who were qualified to run and maintain increasingly sophisticated equipment. There needed to be a coordinated management approach for core research facilities, he said.
"My trip now will be to help them focus on setting up a management system so they can be a force for innovation at the university," he said.
Mundoma's fellowship is administered by the Carnegie Corporation of New York, the Institute of International Education and Quinnipiac University. The fellowship will provide him with travel costs, a daily stipend and health benefits while he is abroad, totaling about $12,000.
Mundoma will be in South Africa from June 15 through Aug. 5.