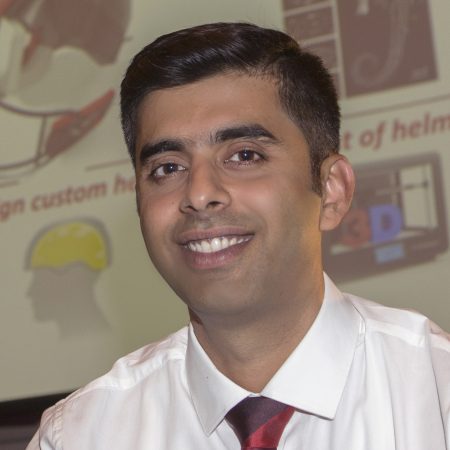 A graduate student who described his research into how to build a better concussion-mitigating football helmet won Florida State University's 2015-2016 Three Minute Thesis competition Nov. 17.
Aniket Ingrole, who is earning his doctorate from the Department of Industrial and Manufacturing Engineering at the Florida A&M University-FSU College of Engineering, won first place in the competition that challenges doctoral students to present their voluminous dissertations in three minutes. The competition, sponsored by FSU's Graduate School, was founded by the University of Queensland in 2008 and has since been adopted by universities around the world.
Ingrole — a native of Kolhapur, India, who first came to the United States in 2007 to earn his master's degree at FSU and now is earning his doctorate — practiced a lot in preparation for the competition.
"You don't want to get nervous when you get in front of a crowd this big," he said. "It took some time because English is not my mother tongue."
Ingrole, who is also a teaching assistant, has taken FSU courses that teach students how to present scientific posters, teach a class or sharpen the skills to present a good elevator pitch.
In his presentation, "Bio-Inspired Structures for Custom Manufacturing of Safer Helmets," Ingrole talked about how he looked to nature to understand how animals such as rams and woodpeckers can take repeated blows to the head and how sea horses stay flexible. He then described how 3-D printing technology could be able to replicate materials that mimic animal physiology to protect humans as they play sports such as football.
Ingrole will receive a $500 prize for winning the competition and have the chance to compete in a regional round of the competition later this academic year. Frank Annie, a doctoral student in the Department of Geography, won second place along with a $350 cash prize for his presentation "The Effects of Dioxin-Based Exposure on Nitro, West Virginia." Austin Schwartz, a doctoral student in the Department of Molecular Biophysics, was voted as the People's Choice Award recipient for his presentation "Nanoparticles and Neurons, Olfaction and Metabolism." He will receive a $250 cash prize.
The other seven doctoral students and their presentations were:
Nandita Abhyankar, chemistry and biochemistry, "Rapid Synthesis of Hybrid Multiferriocs";
Stephanie Bradley, sociology, "Save Our Homes: An Analysis of Property Tax Limitation in Florida";
Atanaska Dobreva, mathematics, "Using Mathematical Modeling and Analysis to Study Alopecia Areata and Treatment Options";
Stella Min, sociology, "Parenthood Delayed or Forgone: Student Loan Debt and Family Formation";
Matt Podlogar, psychology, "The Choice of Non-Disclosure in Suicide Risk Screening Questionnaires";
Margaret Scheiner, industrial and manufacturing engineering, "Light, Innovation and Safety: Triboluminescence, Structural Health Monitoring and You"; and
Andrew Vonasch, psychology, "Why are People Lazy Thinkers?"
This year's competition began with 37 doctoral students who signed up for the competition. They were winnowed down to 10 in preliminary rounds that were judged by a group of 21 FSU faculty and staff members.
The final 10 contestants were judged by Carolyn Egan, FSU's general counsel; Gerald Ensley, the Tallahassee Democrat's recently retired senior writer; Lynn Hatter, news director of WFSU; and Myra Hurt of FSU's Institute of Molecular Biophysics.
Ensley praised the high degree of scholarship represented by each contestant's research.
"They all had a great grasp on their research and they're all doing things that will benefit humankind," he said. "It shows the hard work of FSU students. They're really doing groundbreaking research for the nation."
Hatter echoed Ensley's sentiments, calling the presentations "brilliant."
"What I really love about this competition is that these students have the opportunity to really tell people how this research is going to impact them," she said. "So you saw a common theme among the presentations, from agent-orange poisoning to helmet safety. These are real-world ideas that I think people can get behind, and that's what makes this type of research exciting."