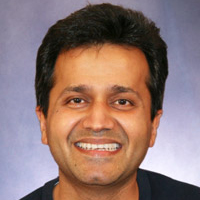 A group of Florida State University researchers has won a highly competitive $2.7 million grant from the Air Force Office of Scientific Research to improve aircraft performance by examining how shock waves impact the bodies of supersonic airplanes.
The charge, though a very fundamental research problem, has many practical applications in the long-term, said Farrukh Alvi, the lead researcher on the grant and the director of the Florida State-based Florida Center for Advanced Aero-Propulsion.
Understanding how shock waves impact the air flow, especially the flow near the surface of the vehicle, referred to as the boundary layer, would allow researchers and aerospace companies to more efficiently control air flow into an aircraft's engine, or over its wings and other parts of the air frame. That, in turn, could impact the aircraft's speed, mobility and overall efficiency.
"It has a lot of applications, some that we may not even be aware of at this point," Alvi said.
Florida State will be joined on the project by Auburn University, Ohio State University and the University of Texas-Austin. Rajan Kumar, assistant professor of mechanical engineering at Florida State, will serve as the co-primary investigator with Alvi.
"It's a complicated problem, and we're bringing in the needed expertise from different universities," Alvi said. "I believe that together, we make a formidable team."
Auburn researchers will focus on advanced measurement techniques, Ohio State will run high-fidelity simulations and University of Texas-Austin will use its experimental facilities to study supersonic and near-hypersonic flow.
FCAAP, with its new polytonic wind tunnel, will also focus on supersonic flow and running a number of the experiments in the wind tunnel, which can generate wind speeds up to Mach 5, i.e. five times the speed of sound.
The process to get the funding was long and highly competitive, with Florida State's application competing against many of the top aerospace engineering programs in the country.
Over the past few years, Florida State has been building its engineering program by recruiting top researchers and faculty members and has invested in the facilities needed to test next generation aircraft.
"We have made a concerted effort to give our engineering program a boost through some tremendous faculty hires and the addition of new facilities, such as the polytonic wind tunnel," said Vice President for Research Gary K. Ostrander. "This grant from the Air Force is a wonderful show of faith in our ability to produce top notch research results. And I know that Farrukh and his team will not let them down."
The grant, distributed over five years to the four universities, will support six to eight doctoral students and at least two post-doctoral researchers who will also work with Alvi and his colleagues on the research.